Bar Refrigeration Buyer's Guide

Bar coolers can help streamline service in your restaurant or bar by keeping drinks and supplies close at hand. Keeping a well-stocked bar refrigerator can mean faster service for your customers and less work for your employees. Find the right one for your foodservice operation to ensure you get the best use out of your space.
Back Bar Cooler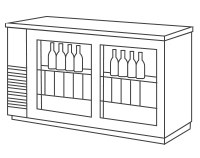 Back bar coolers are available in a variety of configurations to fit any establishment's needs. These can hold many different sizes of bottles and cans. The doors are either solid, which provides better insulation and energy efficiency, or glass, which can assist in merchandising your products. Glass door models offer the additional option of swinging or sliding doors. Swinging doors are mounted on hinges and usually close on their own if left open, but they have the drawback of taking up more room when they are open, which can block the flow of traffic. Sliding doors slide along a track, so they are ideal for areas where aisle space is limited, but they may not close on their own and are only available on units with two or more sections.
Knowing where the compressor is mounted on a back bar cooler is especially important if you already have a location in mind for the unit. Side-mounted compressors may have their intake and exhaust on the side, and so will need more clearance on the side with the compressor. Rear-mounted compressors have similar considerations related to clearance and may not be suitable for installing against a wall. Bottom-mounted compressors need less clearance, but because they draw in the dust and debris that settles to the floor, they need maintenance more often. Remote compressors solve a lot of these problems, as they are located away from the unit, often on the roof, but installation can be costly.
The exterior finish of the cooler will affect not only its appearance, but also its durability. A stainless steel exterior is durable and easy to clean, but will cost more initially and have to be cleaned more often. The other option is black laminate, which looks more modern and is usually cheaper. However, the laminate can be scratched or chipped, which can lead to the metal underneath rusting.
Some models offer specialty options such as energy-efficient LED interior lighting for merchandising. Door locks can help keep your merchandise safe when staff aren't watching the unit. A pass-through configuration, which has doors on both sides, can make first-in, first-out restocking easier or allow bartenders access from both sides in large bars. When a custom walk-in is located behind the bar, these are also sometimes mounted in the wall between the storage and sales areas, allowing cold drinks from the walk-in to be loaded directly into the back bar cooler.
Beer Dispensers & Kegerators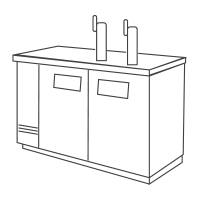 A kegerator or draft beer system can increase beer sales by allowing you to offer a few varieties of draft beer in addition to bottles or cans without having to invest in larger, costlier systems. A beer dispenser can keep the beer cold and provide you with an easy means of dispensing it for your customers.
The number of beers you wish to have on tap and the space you have to work with will be the major determining factors in which kegerator you purchase. Beer dispensers have from one to four taps, which can allow you to offer up to four different types of beer, though some hold more kegs than that to limit restocking.
Like back bar coolers, kegerators are available in stainless steel and black laminate. Black laminate is less expensive, but also less durable, and scratches or dents can lead to rust. Stainless steel is durable and resistant to corrosion, but typically has a higher up-front cost.
Some beer dispensers have a refrigerator attached that can keep bottles and cans cool, or mugs and glasses frosty. Those are commonly called club top units. There are also some weather-resistant dispensers to keep in mind if you will be using yours outside. These are made to hold temperature, even in warm weather, and their exteriors will not be affected by outdoor conditions.
Bottle Cooler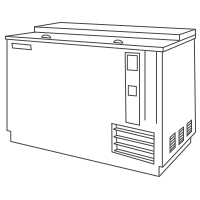 Bottle coolers, as their name implies, keep bottles of drinks cold until they are served. Like most types of bar refrigerator, they are available in black laminate or stainless steel finishes. Most of these have slide-top or swing-out doors, though some that are meant for merchandising may have no door or lid at all.
Bottle coolers keep bottles cold either with a refrigeration system or with bulk ice. Models with refrigeration systems are most often used in restaurants and bars, where electricity is readily available. Ice-cooled models are convenient for outdoor use, such as poolside bars, and are often seen in convenience stores, where they can be used to display drinks where running a power cord could be inconvenient or present a safety hazard.
Capacity is a major consideration in the purchase of a bottle cooler. The smallest sizes hold four-and-a-half bottle cases or six can cases, while the largest can hold as many as 40 bottle cases or 55 can cases. These coolers are meant to house your bulk sellers, making them easy to access and limit the amount of restocking you have to do.
Glass Chiller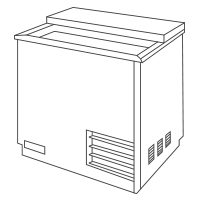 Glass chillers are able to keep mugs, glasses, and even plates cold until you are ready to use them. This can help you serve frosty beers or cocktails, or provide chilled plates and bowls for salads and desserts.
The capacity of a glass chiller is usually rated by how many eight-inch mugs it can hold. The smallest can hold 90 mugs, while the largest can hold more than 350. The capacity will also determine how many sections and doors the chiller has.
Most mug chillers have one or more sliding lids on top to allow easy access to the mugs or glasses inside. However, some of the smaller models have swing-out doors on the front. These are usually installed either under the bar or on the countertop.
For operations that may not have the space for a full-size glass chiller bar refrigerator, there is a specialty model that mounts on a bar or table. This glass froster dispenses a blast of CO2 to frost the glass quickly. However, it can only frost one glass at a time, so it may not be practical for high-volume operations.