Commercial Refrigerator Shelving

Commercial refrigerators and freezers are called "cold storage" for a reason; while a lot of focus is put on the components that keep the cabinet cold, how the food is stored in the cabinet is just as important. Many buyers base their commercial refrigeration purchases on the cubic feet of storage available in the cabinet, but without proper organization, much of that space can go to waste. Below, we explain the different shelving and storage options available for commercial freezers and refrigerators to help you set up the perfect cold storage solution for your commercial kitchen.
Shelves and Shelf Alternatives
Most refrigerators and freezers come with a few wire shelves, but those may not be the best option for your kitchen, depending on what you'll be storing and how the refrigerator will be used. The following are the basic shelf options available from most manufacturers and the best uses for each.
Shelves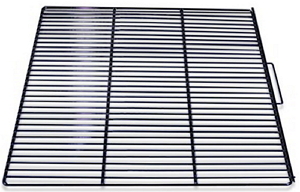 Wire shelves are the most common default option offered with refrigerators and freezers, but you may end up needing more than what's provided or you may find that shelves of a different material will be more suitable for your application. Wire commercial refrigerator shelves are often made of steel and coated in PVC plastic or epoxy for durability and corrosion resistance, but more durable stainless steel and chrome wire shelves are also available.
While PVC and epoxy coatings shelves are protected from corrosion, those coverings can crack and flake over time, exposing the steel underneath to rust. Chrome and stainless steel shelves are more durable and able to withstand years in a commercial setting. Wire shelves can often be augmented with some of the shelf accessories detailed below. Glass shelves are also available, and are mostly used in merchandisers to improve presentation.
Tray Slides
Tray slides - also called pan racks, bun tray racks, and universal slides - offer a way to store more food pans or sheet pans than shelves allow by providing a ledge or wire channel for the edge of a pan to slide on. These components may take the form of individual ledges that are installed on either side of the refrigerator interior or they may come as a one-piece rack assembly that can be slid into the cabinet. A full-size rack will sit on the floor of the refrigerator, while a half-size units can sit on the floor or on a shelf. Some slides are made to fit a specific pan size, while others can hold pans of varying sizes. Like wire shelves, stainless steel and epoxy-coated tray slides are available.
Wine Rack Shelves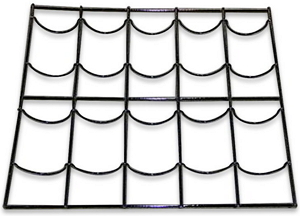 Wine rack shelves are individual shelves made for holding bottles of wine in a commercial refrigerator. These are available in stainless steel, but because they are often used for displaying wine in a glass door merchandiser, black PVC-coated shelves are more popular. Most wine shelves are stationary in the refrigerator cabinet, but some are made on slides that allow the shelf to be pulled out to provide easier access to the wine stored there. These shelves are sometimes installed on an incline, with the back of the shelf raised to make the bottle labels more visible.
Shelf Accessories
These items are not used alone for storage, but can be used with the wire shelves mentioned above to improve organization and merchandising.
Shelf Clips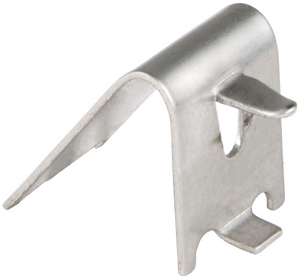 Depending on the manufacturer, these may be called shelf clips, mounting clips, pins, clips, or shelf supports, but they all have the same job: keeping wire shelves securely mounted to the inside of the refrigerator. Because each clip has to be compatible with the refrigerator's interior design, each brand's shelf clip looks different from the other. Some are V-shaped with little protrusions on each end that insert into the support rack, while others are knob-shaped and screw into the side of the refrigerator. Depending on the manufacturer, clips may be made of plastic or stainless steel. They come with the initial refrigerator purchase, but can also be purchased separately to replace lost or damaged clips, or with subsequent shelf purchases.
Bottle Organizers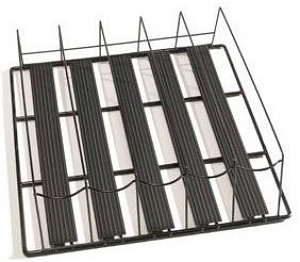 Commonly used in merchandisers, bottle organizers use plastic or metal dividers to create rows to keep bottles organized. These accessories are available with rows of different sizes to accommodate varying bottles. These shelves are often gravity-fed, tilted up to allow bottles to slide forward as the one in the front is removed. The front of the shelf has a barrier to keep the bottles from sliding out, and the back of the shelf is often open to allow for easy restocking in pass-through models. Some of these organizers are meant to be set on shelves, while others consist of a shelf with a built-in organizer.
Pricing Strips
Pricing strips are made to mount to the front of a wire shelf and hold paper or cardstock labels printed with product names and prices. While these accessories are most often used in merchandisers, they can also be used in back-of-house refrigerators to help label and organize each shelf's contents.
Novelty Baskets
Novelty baskets are made of wire and divided into two or more sections to allow for easy merchandising of refrigerated foods like fruit and frozen treats like ice pops and ice cream sandwiches. They can also be used in a commercial kitchen to organize small items on a refrigerator or freezer shelf, like produce or condiments. Because these baskets sit on the shelf, they do not have to be purchased to fit a specific unit as long as the basket will fit on the shelf you plan to use it on.
Walk-in Cooler Storage
Walk-in coolers present a unique challenge when it comes to organizing the space for optimal storage. A walk-in cooler is typically organized more like a room than a refrigerator, since there are no built-in or included shelves or pilasters to install shelving on. The most common solution is modular wire shelving, though polymer shelves are also used. Both of these include models with adjustable shelves and units of varying widths and depths, letting you fully customize your cooler's storage. Pan racks are another option for restaurants that store food pans in the cooler. Many of these options also come on casters, allowing you to easily load and transport the unit into and out of the walk-in cooler.
If your cooler's floor is rated to hold the weight of kegs, those can be stored on a keg rack, with models available that can hold as many as 10. For storing chilled wine, commercial wine racks are available that can hold as many as 192 bottles. Alternatively, wire shelving units provide more versatile storage options. Dunnage racks offer storage for large items near the floor, while still complying with health code regulations and ensuring airflow around each item.