Base Options for Commercial Ranges

From Refrigerated Storage to Convection Ovens
When buying a commercial range, it's not just what's up top that you have to think about. There are plenty of decisions to be made about what should be on your cooktop, how it should be powered, and how big it should be. As important as those considerations in getting the right cooking equipment is picking the base. With legs, ovens, and even refrigerators as options, it's possible to get a base that will be a great addition to your foodservice kitchen.
An Important Note on Casters & the Gas Commercial Range
Before we go directly to the range base options, we want to note that most manufacturers include legs standard on their range units, but casters are available as an option. While there are some benefits, casters are typically not the best choice when it comes to your cooking equipment. Opting for casters allows for ease of mobility that can be a benefit in your kitchen by making it easier to clean under your range and to rearrange things slightly to fit new restaurant equipment. However, if you move a range connected to a gas line too far, that line can break or the nozzles and couplings can be damaged, potentially causing a gas leak that could create a very serious situation if it comes into contact with a flame.
Acquiring a quick-disconnect line can make moving the unit for cleaning underneath much easier. There are also restraints that keep the user from moving the unit so far that it causes a problem with the connector. Such restraining devices are required by local and federal regulations when a range on wheels is installed.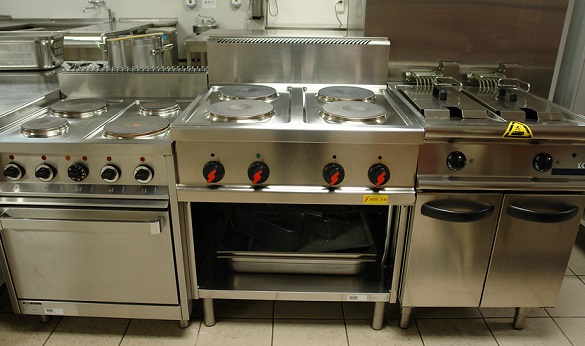 Storage Bases
Though ovens are the most common base for residential ranges, most commercial kitchens have plenty of oven space in other cooking equipment. On the other hand, those same foodservice operations typically don't have nearly enough storage space.
Cabinet Bases
There's a joke in the industry that if you open the oven below the range in most commercial kitchens, you're likely to find stacks of pots and pans or oft-needed ingredients, rather than anything cooking. That's why commercial ranges with cabinet bases are an extremely popular option.
This type of range has significant insulation between the cooktop and the storage area to protect the contents from all that heat up top. With a shelf or two for organization, you could add a significant storage area for your kitchen. Since the doors have to be opened to allow access to the cabinet, these are great for storing items like pots and pans that are accessed occasionally, rather than ingredients that may require the operator to open the doors multiple times for each dish.
Rangetop Legs
This feature may seem comical, at least insofar as we have written there, but it's actually a really great option for a lot of commercial kitchens. Along the same lines as the storage base, this option, also called a modular commercial range, can still allow some additional storage room, with some manufacturers offering a single shelf below the cooktop.
Modular commercial ranges are mounted on tall legs that bring them to the standard 32-inch height and typically have a shelf midway up the legs. Since these units are modular, they're ready to pair with other cooking equipment to create a battery of stations, from fryers to ranges to broilers. Modular units provide heavy-duty cooking equipment with a smaller price jump from restaurant ranges thanks to the fact that they come with a base that's just legs.
Refrigerated Storage
Perhaps the most overlooked of the five potentials is refrigeration. Since most commercial kitchens already have at least a couple freestanding ovens, adding more cooking equipment below the commercial range isn't always fulfilling a need. On the other hand, if the ingredients most commonly used in cooking are right there below the cooktop, that can save a lot of time running back and forth to a refrigerator. It can also help save money, since chilling those smaller coolers takes less energy.
Of course, there are some drawbacks to the configuration. Adding refrigeration can significantly increase the price because it requires a huge amount of additional insulation. Even with that, a heavy day of cooking can push a lot of heat into the refrigerator cabinet(s), forcing the cooling system to work harder.
Heated Bases
Oven bases are generally the most popular option when it comes to ranges, as having a way to finish dishes nearby can be handy. Even if you are sure you want an oven, there are still different kinds to choose from.
Conventional Ovens
The most common foothold for the humble conventional oven in food service is below the cooking range. Because of complaints about inconsistent heating and slow cooking, conventional ovens like those most typical in home kitchens are pretty rare in commercial ones. Still, when you're looking to finish a dish that you've been cooking on the stovetop with a little browning or melting, having a conventional oven right below is convenient. These models are also typically cheaper than those with a convection oven. Because they're available on restaurant ranges, rather than on heavy-duty commercial ranges, this pairing can sometimes be cheaper than even a modular range with nothing below it.
Depending on the size of commercial range you're shopping for, you may have several options for how a conventional oven is configured. There can be one to three of them in a unit, though they can also be paired with storage and convection ovens.
Convection Ovens
This is the choice made by most of those who want cooking equipment under their commercial ranges. Convection ovens are trusted in most every commercial kitchen and are definitely valued above their "standard" kin throughout the food service industry. Thanks to the fans inside the cabinet that circulate the heated air, convection ovens provide more consistent heating and faster cooking times.
As noted above, convection ovens can be paired with each other, with storage, and with standard ovens to create the perfect cooking equipment for your kitchen. The convection ovens that are paired with commercial ranges are typically not quite as powerful as stand-alone units and have solid doors, so they don't offer a view of your food as it cooks. However, they still provide a handy means of finishing a steak that has been seared on the cooktop.
Expert Guidance on Range Bases
If you want more information or personal assistance in your considerations of the right base for your commercial range, please contact us at 1-800-541-8683 or info@katom.com from 8 a.m. to 8 p.m., Eastern Time Monday through Friday.