Coffee Percolators & Urns Buyers' Guide

Commercial coffee makers are available in percolator and urn styles that are useful for providing large groups of customers, clientele, and employees with piping hot coffee. While urns are available that percolate coffee, not all urns are percolators and not all percolators have urns.
Depending on the output needs of your establishment and the availability of water and power supplies, the percolator or urn you need will be different. If you have catering or other mobile needs, a single-urn machine may be your best bet. If you have high-capacity, institutional need, a more industrial-type percolator may be best. Often fitted with extra spouts for clean water, they can also be used to produce tea, hot chocolate, and oatmeal. Their versatility and uncomplicated operation make these units an obvious choice for many operators.
Steeping Methods
For more than 200 years, percolation has been used to create robust cups of coffee. While the basic concept of using boiling or nearly boiling water to extract vital oils out of ground coffee remains fairly unchanged, today's technology allows for more precise extraction for signature percolated flavor.
A commercial coffee percolator will often use an urn to hold the coffee once it's prepared. Because there's no burner for the coffee to sit on and because these units often have a sleep mode function, it's easier to keep coffee warm without scorching or over-extracting the flavor, issues that can arise with decanter-style units.
There are also models available with automatic agitation and controls that allow for constant brewing. Thermostats are often controllable and have brew, heat, and standby functions. Operation can be simplified even more with automatic water fill.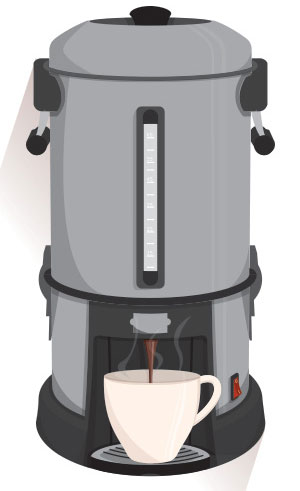 Low-volume urn brewers typically produce between 1-1/2 to 10 gallon batches, while those with high-volume capacities can brew up to 180 gallons of coffee. These varieties tend to be configured with twin 3- or 6-gallon holding liners. These high-yield urns are ideal for use in foodservice settings where the urns are permanently positioned.
Pour-over units and automatic brewers can provide about 50-80 cups of coffee per hour, and larger systems can brew up to 12 gallons in that time frame. While some urns are heavy-duty 100-gallon machines, some can be 1-3 gallon elegant showpieces. The decorative types are meant to be mobile, making them ideal for banquet halls and meeting rooms. They are typically stainless steel, polished aluminum, brass, chrome, or silver-plated and may be trimmed out in gold or wood.
Many of these can perform at high volume and are wired-in to percolate gallons of coffee at a time, but some of the more decorative urns will have a fuel burner underneath to keep the coffee warm. This type may not keep the coffee at an ideal temperature for long periods of time. They also won't brew coffee; they only keep it warm in an attractive vessel until it's time to be served.
Things to Consider
When choosing a coffee urn or percolator, it is important to keep a few points in mind. For instance, coffee is 98 percent water. Therefore, it may be necessary to install a water filter to guarantee quality and uniform flavor profiles. It is also important to note that when these fixtures are permanently plumbed into your facility, adequate water pressure is vital in order for the equipment to work properly.
If you will be preparing coffee at high volumes, it may be beneficial to choose a 208/240 model, as the time required to reach brewing temperatures between batches is lessened by the increase in power. For maximum quality, coffee should only be held for about 20-30 minutes with these units, so it's important to consider volume when choosing the right urn or percolator for the job. These coffee brewers can also vary widely in size from small, decorative, countertop styles, to those with a considerable 37-inch by 30-inch footprint.