Boost Your Catering Business' Profit Potential With These 5 Pieces of Equipment
Whether it's wedding or holiday season, summer or winter, every caterer is always looking for new ways to boost the profit potential of their efforts. That may mean innovating the way they're preparing their food or creating a more impressive presentation. It may mean adding menu items that provide high margins with low production costs and high potential price points.
There are some pieces of equipment available from KaTom that you may not have considered, but that could give a boost to your catering business' bottom line. From preparation to presentation, here are some great ways to add some flair to what you're doing that could provide you a serious boost in profit potential.
Increase Your Catering Business' Profits With a Sephra Commercial Chocolate Fountain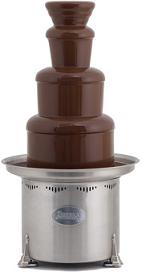 There can be no doubt that since the first hot chocolate was brewed up by the Aztecs; humans have been in love with chocolate. You can spark that same thrill the first people to savor the smooth, rich taste of cocoa must have felt by adding a Sephra commercial chocolate fountain to your catering business' equipment list.
People love not only the visual of cascading chocolate with one of these Sephra units, but also the smell of the cocoa diffusing into the air. But you don't have to take our word for it. Just add one to your repertoire and the folks at Sephra say you're likely to see a significant boost in catering revenues.
"Chocolate fountains used by our commercial chocolate fountain customers generate thousands of dollars in revenue and increase guest satisfaction immensely," the Sephra website reads. "Sephra commercial chocolate fountains have become a standard attraction at weddings and social events."
Sephra's units are easy to clean and transport, are certified for electrical safety and sanitation, and come with a limited lifetime warranty. They also come in the perfect size for your catering business, from the Cortez to serve 70 people, the Aztec that can handle 125, the Sephra that feeds 200, and the Montezuma, a mountain of flowing chocolate that will satisfy more than 250 people. In case you're wondering, the Montezuma is their most popular model.
Increase Your Catering Business' Profits With a Carlisle Ice Sculpture Mold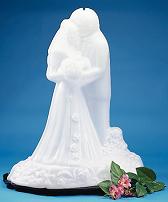 A beautiful ice sculpture just adds a little something to a serving line that people love, from weddings to company picnics to any time of special gathering. And we're about to blow your mind about both how simple it can be to create one and how much profit it can provide you.
Though you may picture someone standing over a block of ice with a chainsaw when you think of an ice sculpture, you don't need all that to create a dazzling frozen centerpiece. Instead, try a single-use Carlisle ice sculpture mold, a sturdy plastic form that you fill with water, then put in your freezer. Within a couple days, it's solid enough to use, with an expandable conical base helping to prevent cracking or leaks. You just cut the form off the ice and display.
Now comes the really amazing part: While the forms sell for $55–62, typical pricing for an ice sculpture provided by a caterer is around $300, meaning you could claim profits of nearly 600 percent.
Increase Your Catering Business' Profits With an Equipex Commercial Crepe Maker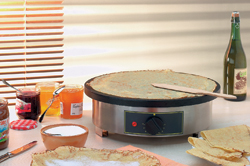 People love being able to be part of creating their food and being able to see it made. That's why smart caterers offer menu options like crepe stations, with an employee offering up those tasty, wafer-thin pastries loaded with the savory and the sweet. They're a serious way to boost your catering business' profit potential.
Though there is some belief that crepes are a challenge to make, that's simply not true. There are add-water mixes available that can make preparation a snap and all it takes to get the perfect crepe is a good commercial crepe maker, like those offered by Equipex, and a little light wrist work. Top each one with things like strawberries and chocolate syrup, or pepper jack cheese and sliced turkey, and you've got a final product that likely will cost less than 50 cents.
Considering many catering businesses will offer those dishes for a few dollars each, there's clearly an incredible profit potential with bringing an Equipex commercial crepe maker into your operation.
Increase Your Catering Business' Profits With a Polar Ware Self-Closing Chafer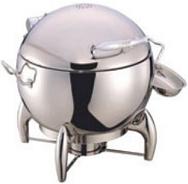 Have you noticed that a lot of this list has to do with your catering business's presentation? There's a reason for that; besides taste of the food, providing a great presentation is the most important part of being a caterer.
Fortunately, Polar Ware is creating some serving items that can help both protect the quality of the food you serve and create a beautiful presentation. As an example, the Polar Ware T3633 11-quart Round Soup Chafer Station offers an all-in one serving set-up that is beautiful, yes, but is also efficient. It comes with a built-in ladle tray and has a brightly-polished silver finish.
Perhaps most importantly, it has a damped-hinge, which allows the lid to close softly on its own. No more will you have children slamming the lid of your chafer and splattering soup all over unsuspecting bystanders. No more will adults be able to leave the lid open, compromising both the quality and safe temperature of your soup. That means less product loss and a better-looking bottom line (a.k.a. profit potential) for your catering company.
Increase Your Catering Business' Profits With Ramekins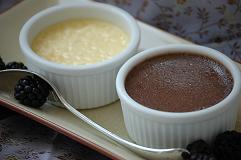 This one is far simpler than all the others on this list, we recognize, but there's just something about dishes served in a ramekin that people love and these little dishes can make your life much easier. Not only can they save your catering business money by cutting down on your servingware needs, they also contain everything neatly in one dish, which is great for both cooking and cleaning.
Ramekins have been a hot commodity in foodservice in recent years, with chefs from the neighborhood diner to four-star eateries creating signature dishes in these ceramic wonders. Whether it's a special version of macaroni and cheese, a deconstruction of the humble cheeseburger, or the much-loved French onion soup, it seems it's hard to create anything in a ramekin that isn't well-received.
The real profit potential for your catering business served up by the ramekin is in reducing the dishes and serving utensils needed to prepare and present your dishes. While you might otherwise create the same macaroni and cheese in a mixing bowl, pour it into a tray to cook, then serve it on a plate, with a ramekin you need only the one dish. You also don't have to provide a spoon for dipping it out of the serving tray. That saves you money on washing all those extra dishes and employee effort, which means work gets done quicker. That means savings, which is sort of like an advanced version of profit potential.
Don't be afraid to incorporate never-before-used products into your business. The results might not only be increased creativity, but more revenue, too.