The Bar Blender Buyers Guide
Bar Blenders
Blended beverages are always considered a popular drink for customers to order, especially in the warmer months. While one or two beverages here and there may be easy for the common blender the load of an average bar's blended drink orders may render it useless. Bar blenders must be durable, long lasting, and strong to keep up with the commercial demand.
Bar blender containers come in a variety of sizes and are made in several materials.

Glass blender containers are the "classic choice. While glass containers are nice to look at and do not discolor or absorb food odors, they are also much heavier and prone to breakage.

Polycarbonate blender containers are the most common blender container. Polycarbonate is clear for easy viewing and is lightweight.

Stainless steel blender containers are a very durable choice. While the container will last a long time, there is no ability to view the blending product.

Copolyester blender containers are clear, much like Polycarbonate. Copolyester blender containers have a lower chance of cracking or hazing. Copolyester is also BPA-free.
Horse Power & Amps
The higher the horse power and amps of the blender, the more powerful your blender will be. Blender motors typically range from 4 to 1/3 horsepower or 3.5 to 20 amps.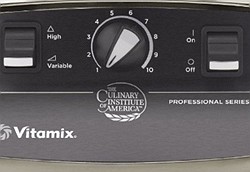 Controls
The type of controls a blender has differs from model to model. Common controls are keypad controls, push button controls and switch controls. Many blenders feature a "pulse button for manually controlling the blending process.
Blade Assembly
Bar blenders will usually have either a "wet blade assembly or an "ice blade assembly made with stainless steel.

Ice blade assemblies feature blunt blades that make the job of breaking up ice an easier process. Ice blades are ideal for bar use.

Wet blade assemblies feature sharper ends that puree better than ice blades but do not as easily break up ice.

Blender Accessories
Sound Enclosures are a must have for bars as heavy duty bar blenders can be very loud. The sound enclosure helps to reduce the sound from the blender and creates a better environment for your bar guests.

A Blender Container Rinser makes quick work of cleaning the blender container. It is used simply by pressing the dirty container down onto the rinser.
Blender Brands
KaTom Restaurant Supply sells several trusted Bar Blender brands including Vitamix, Blendtec, Waring, Hamilton Beach, Santos by Dynamic, Omega, and Gold Medal. Feel free to browse KaTom's large selection of high quality beverage blenders to find the perfect model for your business's needs!