Beverage-Air Offers the Quietest Glass Door Merchandisers

Ever since glass door merchandisers were introduced, the main complaint about them has been that they produce too much noise. Some eateries and bars refused to keep them in the front of the house for exactly that reason. Meanwhile, folks in convenience stores and grocery stores had to deal with the constant, low hum emanating from those coolers.
So, the Beverage-Air engineers set out to create some new buzz about their glass door merchandiser line by cutting down on that old buzz. What they came up with were compressor systems that all operate at 65 decibels or less, what they call "whisper-quiet." For a real-world perspective, they're about as quiet as the computer server you might find in an office, which hums away quietly and probably goes unnoticed.
The Beverage-Air folks say that decibel level makes them the quietest in the glass door merchandiser industry. Suffice it to say, it's likely to be drowned out by normal conversation and unlikely to be noticed by customers, whether in convenience stores or eateries.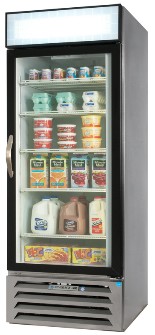 Beverage-Air Glass Door Merchandisers: Quieter and More Efficient
Not only are the innovative compressors in the new Beverage-Air glass door merchandisers the quietest, they also perform better than their predecessors. In large part that's thanks to the fact that the condenser coil isn't inside the usable cabinet space. That allows for complete circulation of the chilled air in the unit, which ensures each product gets enveloped in the cold.
These models have 120-degree self-closing doors, which means the cold air stays in the unit. But those same doors also have a hold-open feature that can help prevent product loss. How? Well, imagine an employee in a convenience store is balancing a load of soda bottles or a vase of flowers on a knee in a grocery store as he loads other items into a glass door merchandiser. As that delicate work is being done, the cooler door slams shut on the hapless person, jostling the products on his knee and causing them to fall to the floor.
Get the Beverage-Air Glass Door Cooler You Need
Beverage-Air offers a long list of options that enable you to customize your glass door merchandiser to be exactly the unit you need. Among those is a stainless steel interior that, when chosen, provides a unit approved for open food products. That could make it perfect for quick-service eateries offering refrigerated products, bakeries, a grocery store, convenience stores selling fresh-made food items, and even as a back-of-house refrigerator for commercial kitchens.
To get more information on these Beverage-Air glass door merchandisers, contact one of KaTom's customer service representatives at 1-800-541-8683 8 a.m. to 8 p.m. ET Monday through Friday, or info@katom.com.