The Restroom Accessories Guide
A poorly maintained and designed restroom can quickly turn people off of your business, especially if your business is a restaurant. The common thought seems to be "if this is how they take care of the restroom, the kitchen can't look good". Accessorizing your business's restroom is easier than you think! We've written a helpful restroom accessory guide to help your establishment along the path to a superior restroom.
Let's face it; bathrooms aren't going to smell good on their own. This is where air fresheners come to play. There are several types of air fresheners to choose from.


Aerosol Odor Control System – Some air fresheners use aerosol canisters to spray the fragrance into the air. There are many fragrance choices for this type of air freshener, including floral and fruit scents.

Gel Air Freshener Systems – This type of air freshener utilizes gel fragrance packs to scent the air. These types of freshener systems also typically use fans to help spread the scent.
Where there is a bathroom, there is a sink. Where there is a sink, there is a need for hand cleaning soap to reduce the spread of sickness and bacteria. Soap dispensers come in several designs, many which are only compatible with select soap, lotion, or sanitizer types.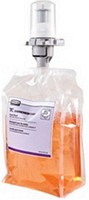 Foams– Foam soaps or sanitizers are a great option for those who are looking to reduce the amount of product and water used. Because foam soaps are already bubbled up, less water is needed to lather the hands. It is possible to have lotion soaps, sanitizers, antibacterial soaps, and standard hand soaps in foam form.
Liquids – Both sanitizers and soaps can come in this form. Patrons often use more soap than needed when using liquid soap so using a portion dispenser is recommended to save product. Lotion soaps, standard soaps, and antibacterial soaps all come in liquid form.
Lotion Soaps – These soaps are enriched with vitamins as well as moisturizers like Shea butter. This type of soap will keep your patron's hands from drying out and will result in a more pleasant hand washing experience.
Sanitizer – Sanitizer is a great, waterless way for customers to purify their hands after using your restroom facility. Sanitizers come in alcohol or alcohol free varieties that dry quickly, leaving no stick residue behind.


Classic Dispensers – This style of dispenser features a push button for manual dispensing. This is the most common type of dispenser used. This type of dispenser can be used for liquid soaps including antibacterial and lotion soaps. Many of these dispensers feature adjustable portion control for reducing product waste and are in most cases wall mountable.


Classic Touch Free Dispensers – This type of dispenser usually calls for battery use due to the hands free function. Touch free dispensers in this style utilize sensors to know when dispensing is needed and dispense only the portion needed. Classic style touch free dispensers can be used for foam soap and foam sanitizers.


Faucet Style – Faucet style dispensers also feature hands free functions and are an attractive way to dispense both liquid and foam lotion types due to their faucet design. Faucet style dispensers are ideal for foam soaps and liquid soaps.
Hand Drying Solution

Paper Towel Dispensers - Paper towel dispensers come in several styles that are most commonly wall mounted. More affordable paper towel dispenser models, like the 094-T451XC by San Jamar, simply hold the paper towel roll. Others, like the Update International 370-TDMFOLD, feature cases that dispense rolls OR multifold paper towels manually. There are also models (the Bobrick 016-B35903 for example) that feature recessed design for manual paper towel dispensing as well as combination units with built in waste disposal. You will be glad to know that more technologically advanced paper towel dispensers are available with touch free dispensing. These types of paper towel dispensers help to reduce the chances of hand contamination.


Hand Dryers - You can also choose to use automatic hand dryers for your lavatory. These hand dryers come in hot air styles as well as energy saving high speed styles like the Dyson Airblade. You can learn more about hand dryers by reading our helpful hand dryers buyers guide.

A baby changing station is a considerate addition to your restrooms. Baby changing stations come in both horizontal and vertical styles as well as safety seat designs for parents who have their hands full.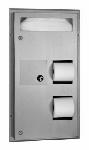 Toilet Paper Dispensers
It is very important that you equip your bathroom with a toilet paper dispenser, even if it is an economy model. Standard toilet paper dispensers typically hold anywhere from 1 to 2 toilet paper rolls. There are also toilet paper dispensers that are built to hold Jumbo rolls of tissue, lengthening the time between refills. Jumbo toilet paper dispensers can typically hold 1 to 2 rolls as well. For a trash receptacle and toilet paper dispenser in one, look no further than a toilet compartment combination unit.
Sanitary Items
Keeping your restroom sanitary is a top priority if you want guests to return. There are several items to add to your lavatory to ensure better sanitation for your patrons.


Toilet Seat Cover Dispensers – Some guests do not prefer to sit on a surface that could have God-knows-what on there in terms of germs or bacteria. Toilet seat covers are a great way to remedy this issue.


Sanitary Napkin Disposal Units - These units are discreet and are ideal for every stall inside of your women's restroom.


Sanitary Napkin Dispensers – This is a very considerate dispenser to add to your women's restrooms.


Waste Receptacles – With or without paper towel dispensers, you're sure to see a need for a trash can in your lavatories. KaTom carries pedal trash cans, recessed waste receptacles, open top waste receptacles, countertop mounted waste chutes.

Urinal screens will help to keep urinals from smelling as much. These urinal screens come in several scents including orange, apple, mint, or even bubblegum! KaTom also offers the resource conserving EcoUrinal that uses no water and features hands free operation.
Whether they're being used to hold air freshener systems or a guest's coat, hooks and shelves come in handy.


Hooks – Hooks are mainly seen on the inside of stalls or near the entrance of the restroom and are ideal for holding the guests belongings while they're busy.


Shelves – Shelves are great for holding air fresheners as well as cleaners and other tools for maintaining the restroom.


Grab Bars– Grab bars are usually used inside of handicap accessible stalls as well as the border of the restroom. Grab bars aid those who have difficulty standing.