Chicago Metallic Pan Coatings

Chicago Metallic has been manufacturing metal bakeware for more than 100 years, along the way developing a wide selection and innovative coatings to help bakers achieve the results they need. These coatings, which have been approved by the FDA, have been proven to last through more releases than the leading competitors, so pans with these coatings will last through more cycles of baking and releasing than any other pan if they are properly cared for.
AMERICOATPlus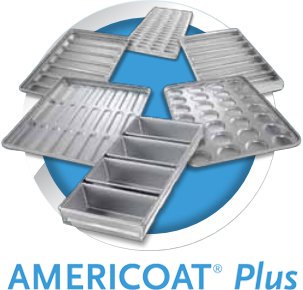 Chicago Metallic AMERICOAT Plus™ uses silicone resins as a releasing agent, for an approximated 600 releases per coating. This coating allows bakers to use up to 50 percent less pan oil without any increased risk of sticking, which can save money and labor. AMERICOAT Plus lasts up to 30 percent longer than other silicone glazes. It is part of the Chicago Metallic Pan Glo® program, so if it does begin to wear thin, you can have your pans cleaned and professionally refinished with a new coating. There's also a straightening service that brings warped bakeware back to the level, which can vastly improve consistency and allow for stacking without jamming.
DuraShield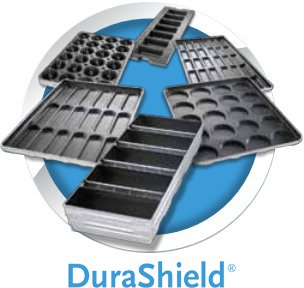 DuraShield&reg uses fluorocarbon polymers to provide a non-stick surface and thermal stability. This coating has been proven to provide up to twice the number of releases as the leading competitors, and can completely replace pan oils, parchment paper, and non-stick mats in most bakeries. DuraShield coatings are durable and have been shown to provide more than 5,000 releases for some bakers, and Chicago Metallic guarantees at least 3,000. When the coating eventually begins to wear off, DuraShield recoating services can strip the coating off the pan so that a new coat can be applied, extending the pan's life.
Care & Cleaning
When you bake in a pan with an AMERICOAT Plus coating, the food should be removed as quickly as possible once baking is done. Leaving warm food in the pan for too long can allow steam to penetrate the coating, which can cause it to lift away from the pan. Bakers should take care to never use metal utensils on this Chicago Metallic bakeware, as these can easily scratch through the coating and cause sticking and corrosion.
When you need to clean your pans, wiping them with a clean towel is usually enough to get them clean, and washing them should be avoided. If it becomes necessary to wash your pans, never use acidic cleansers or alkaline detergents; only mild soap should be used. Pans should also never be soaked in water or washed in a dishwasher. Pans should be thoroughly dried in a warm oven after washing, then stored upside-down in a warm, dry environment.
DuraShield is dishwasher safe, making washing and maintenance simple. Pans can often be cleaned simply by wiping them with a damp cloth, but they should be cleaned thoroughly before they are stored. Pans should be stored on a level surface and anything that causes distortion should be avoided. Regular inspections of your pans can help you find spots experiencing heavy wear, so that you can identify the source of the damage and take steps to prevent it from worsening.
Americoat® Plus Silicone Release Coating Chicago Metallic Bakeware. Accessed September 2015.
DuraShield® Brochure Bundy DuraShield®. Accessed September 2015.
DuraShield® Non-Stick Coating Bundy DuraShield®. Accessed September 2015.