Bakers Pride Deck Ovens
No matter if your business needs Bakers Pride deck ovens for meats or pizza you can be sure you'll find the best ones here.
Our selection of Bakers Pride deck pizza ovens come in electric and gas models so you'll easily find the perfect model for your restaurant.
Shop All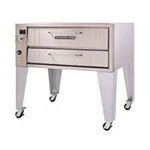 Save time on your restaurant's food orders by using a Bakers Pride deck convection oven.
Shop All
Bakers Pride Deck Ovens Top Products