American Dryer Good, Better, and Best Options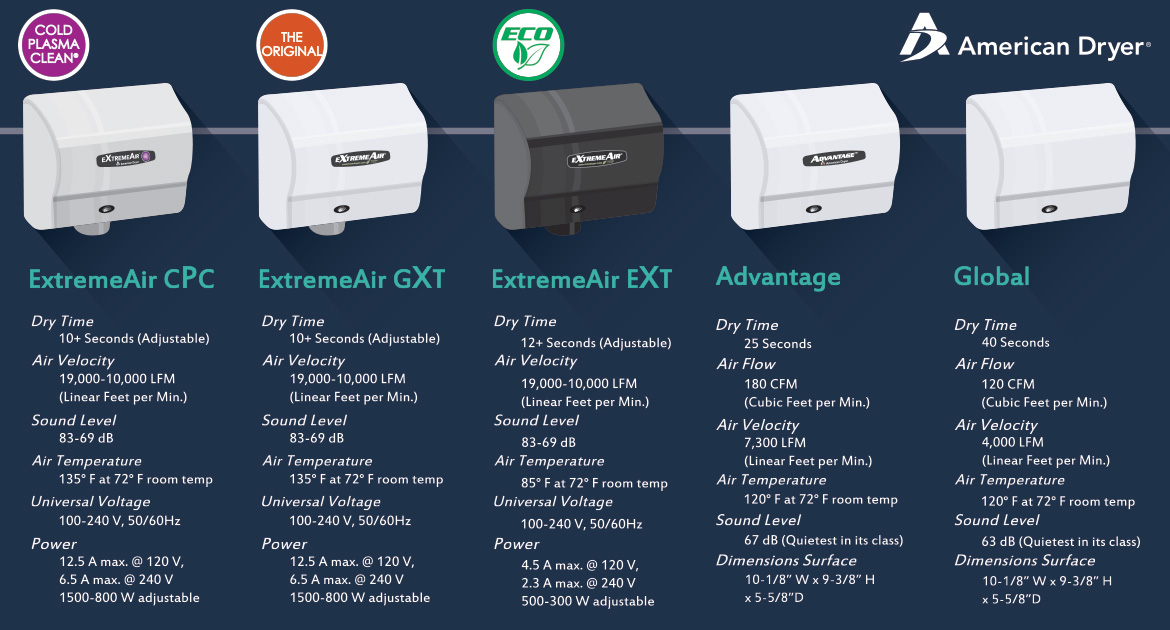 Everyone can agree that paper towels are one of the least hygienic ways to dry your hands. Several studies have shown that even unused paper towels contain unsettling amounts of bacteria, especially those made of recycled fibers. Not only do they take a tremendous toll on the environment, they also cost an exorbitant amount of money and create significant housekeeping issues. Vandals can also wreak havoc in a bathroom with paper towels by clogging toilets and overflowing trash containers. The best way to eliminate these problems is to eliminate the paper towel. Whether you want a simple, economical solution or the most cutting edge dryer that the market offers, American Dryer has a range of good, better, best hand dryers to help you do just that.
American Dryer has been providing a cleaner, more efficient way to dry hands since its inception in 1952. The cost savings alone over paper towels should be enough to convince anyone to make the switch, but the benefits don't end there. American Dryer's units are made in the USA, and each dryer is tested before it ships. This dedication to quality means you can depend on your dryer to be reliable and cost-effective, whether you're looking for an economical solution or the top-of-the-line hand dryer.
Good: Global GX
Even with their most basic model, the Global® GX, American Dryer Corp blows away the competition. Its compact, quiet design delivers warm 120-degree air to dry hands in as little as 40 seconds. By providing an energy-efficient 1/12 horsepower motor, the Global GX dries hands at 63 decibels, making it the quietest in its class. With their low price point, these units are affordable for people on just about any budget.
Better: Advantage AD
By moving up a level to the Advantage™ AD commercial hand dryer, you'll gain 25 percent more horsepower for a rapid 25 second drying time. Their universal voltage option allows them to be mounted virtually anywhere, so replacing old, ineffective units will be a breeze. While these units live at a slightly higher price point, you'll still save significantly in the long run over the cost of paper towels, and their efficient motors will potentially help the unit pay for itself in a matter of months.
Best: ExtremeAir
By moving into American Dryer Corporation's top line of ExtremeAir®, you'll find three more levels of performance: the Original GTX, the Eco EXT, and the cutting-edge Cold Plasma Clean CPC. All of these units offer adjustable sound and speed, making them suitable for use in libraries and sports arenas alike.
The Eco EXT uses no heat, which means markedly lower energy demand compared to the typical hot-air hand dryer. Multiple units can also be wired togeter on a single line, which can save on the cost of installation. When not in active use, the Eco EXT switches into a standby mode that uses less than one watt of power when in this mode. This means that not only are you saving on the cost of paper towels, you're also not wasting electricity. This makes the Eco EXT an option your wallet and the planet will appreciate.
The Original GTX offers sleek, compact design in five different finishes to match your décor. These units also come wired to accept any voltage for simple installation. These units offer an exceptional value because they can be installed virtually anywhere.
The Cold Plasma Clean American hand dryer uses cutting-edge bacteria-smashing technology to kill germs still on your hands after washing. While it seems like they'd be at their cleanest then, hands actually pick up bacteria from paper towels and other types of air hand dryers. The only way to solve that issue is with a drying solution that actually kills germs, which these units do.
CPC models charge the air they push out to ionize the germs. When that happens, the organisms are destroyed, leaving only clean water vapor behind. These units have been independently proven to kill germs such as E. coli, staph, MRSA, C. diff, and salmonella. Additionally, the most recent study commissioned by American Dryer and conducted by an independent laboratory shows they eliminate better than 99 percent of the flu virus.
There is great peace of mind that comes with knowing your facility is virtually free from these harmful microscopic threats . Cold Plasma Clean surpasses other hand dryers by actually killing and eliminating germs, as opposed to just moving them from one place to another or trapping them inside the dryer. HEPA filters have the added expense and labor of maintenance, and they don't neutralize odors the way the Cold Plasma Clean can.