The Jackson RackStar® 44 conveyor dishwasher has a cleaning capacity for as many as 223 racks per hour. With the Econo Rinse mode, 0.35 of a gallon is used per rack, while the Turbo Rinse mode uses 0.52 of a gallon. A Rainbow Rinse™ arched rinse arm creates an exceptional rinse action while reducing the amount of water used. All of the wares in the dishmachine are thoroughly cleaned with a torrent of water and heavy agitation with the WISR® cleaning system.
The double-wall, insulated doors keep the wash water hot by retaining heat. Those doors also prevent the machine from generating as much ambient heat, helping to prevent the room that the dishwasher is in from becoming extremely hot. Splash shields prevent water from escaping and creating a hazardous environment. The wash tank and other components are protected from damage with the front dress panel. This model has a lower decibel level than many models, ensuring employees' hearing health is safe.
This machine's entire warewashing system is automatic, including the auto-fill step. The wash arms are self-cleaning so you do not have to worry about manually cleaning them. Stainless steel strainer pans keep scraps from collecting in the bottom of the machine so when the next cycle of dishes are washed they will not be covered in food scraps. The stainless steel wash pump drains itself.
You can easily glance at the digital LED control panel to check on the status of the washer. Energy is conserved since the EnergyGuard™ controls only operate each part of the machine when a rack of dishes is being washed or rinsed.
To better serve your restaurant operation, the Jackson RackStar 44 conveyor dishwasher can be operated from left-to-right or right-to-left depending on how your kitchen is set up. Since your restaurant location can only use 1 phase or 3 phase electrical power, Jackson produces the RackStar 44 to be used with both phases. Your machine can either be heated by electric means or steam-heated. Sanitation of your dishes is the most important part of your dishmachine. They can be cleaned by high-temperature rinse cycles that use extremely hot water to sanitize dishes or chemicals that help get all the food scraps and grime off your dishes.
Product Details
KaTom will include an onboard booster heater for no charge with the purchase of a high-temp Jackson RACKSTAR44 and RACKSTAR66 warewasher through 2017. This includes both the 40-degree-rise (regularly a $2,500 option) and 70-degree-rise (regularly a $3,000 option) booster heaters.
Double-wall insulated doors keep heat inside the machine so wash water stays hot and produce less heat in the dish room
Unit is fully automatic, including its auto-fill process
Vent cowl collars are adjustable for flexibility when it comes to installing the machine
EnergyGuard™ controls help conserve energy by operating the machine only when a rack is being washed or rinsed
Strike plate table limit switch can be connected to a clean rack receiving table setup
Stainless steel strainer pans keep scraps from collecting in the bottom of the machine
15 kW wash tank heater
Exhaust vent fan control
Front dress panel conceals wash tank and components, protecting them from damage
Uses 0.35 gal. of water per rack of dishes in the Econo Rinse mode
Uses 0.52 gal. of water per rack of dishes in the Turbo Rinse mode
Cleans up to 223 racks per hour
Washes with a minimum 160 degrees F water temperature
Stainless steel frame and legs are durable
Adjustable bullet feet
193⁄4 in. clearance requirement on all sides
Overall Dimensions: 64 in. W x 30 in. D x 69 in. H
cETLus listed; NSF and Energy Star certified
Product Features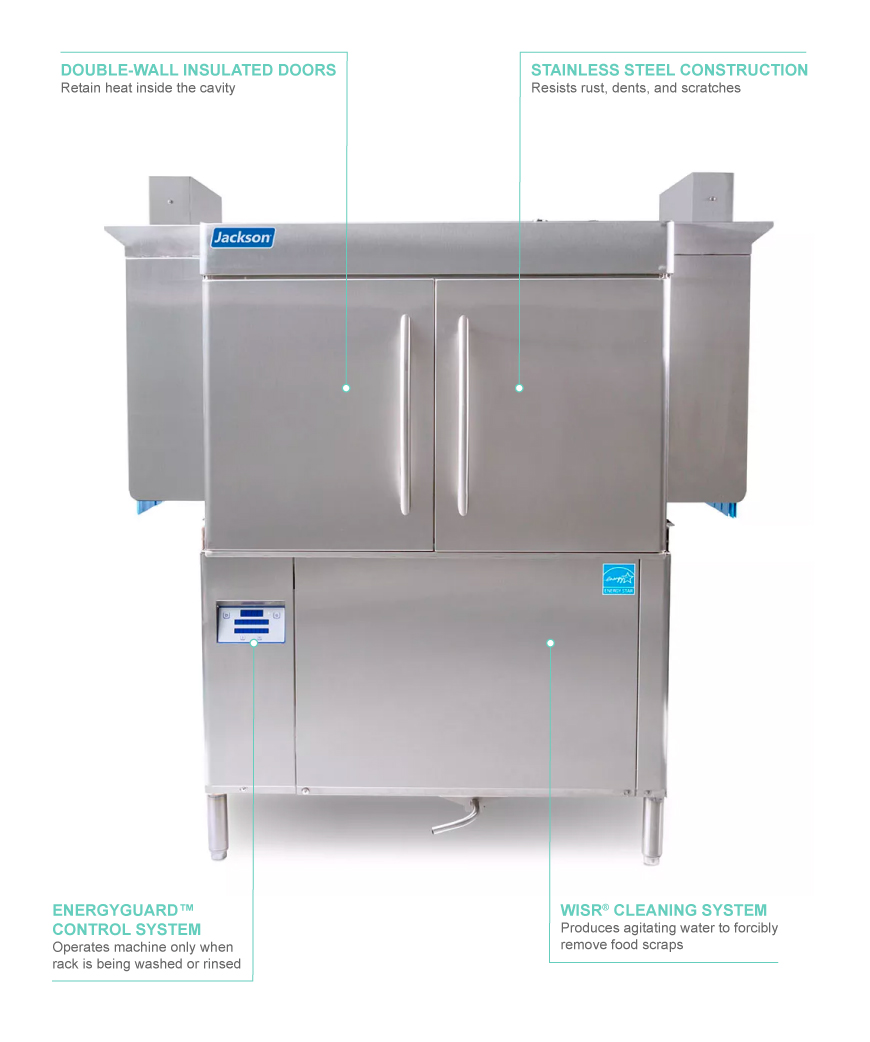 Convenient Features
Wash arms are self-cleaning
Stainless steel wash pump is self-draining
Splash shields prevent water from getting on the floor
Digital LED control panel lets you easily glance to check on the washer's status
Hinged doors allow for easier access
Large front access makes maintenance easier
Surfaces are effectively cleaned with a downpour of water and heavy agitation with the WISR® cleaning system cleans all of the dishmachine surfaces with a strong flow of water and heavy agitation
Rainbow Rinse™ creates an extraordinary rinse action with an arched rinse arm while diminishing the amount of water used
Options
Conveyor Direction: You must specify the direction in which your machine's conveyor belt will run: from right-to-left or from left-to-right. One or the other may be more convenient to your dishroom workflow.
Phase and Voltage: You must specify whether your machine will connect to a 208, 230, or 460 volt electrical connection. You may also need to specify whether it will connect to a 1- or 3-phase power source. Your building's head of maintenance or a certified electrician can help you make this choice.
Steam or Electric Heat: You must choose whether your machine's hot water will be heated via electricity or steam. If your facility uses a central steam boiler to generate heat, you may elect to connect your dishmachine to that source.
Sanitization Method: You must choose whether your machine will sanitize dishes via high-temperature water or with a chemical sanitizer. Learn the pros and cons of each here.
Flanged Feet: This equipment is available with flanged feet that allow it be bolted to the floor.
Prison Package: A prison package is available on this equipment that secures hardware and components that could otherwise be removed by inmates.
RackStar® 44 Dishwasher, conveyor type, high temperature sanitizing, single tank design, approximately (223) racks/hour capacity (0.35 gallons per rack), fully automatic including auto-fill, adjustable conveyor speed, 19-3/4" clearance, digital temperature readout, double-wall insulated doors on front, EnergyGuard™ controls, Dual Rainbow Rinse™ - Econo (0.35 gpr) or Turbo (0.51 gpr), vent fan control, strike plate table limit switch, splash shields, stainless steel construction, adjustable bullet feet, 3 HP pump, 1/4 HP conveyor, cETLus, NSF, ENERGY STAR®
*The warranty will not be honored for residential or non-commercial use of any Commercial Equipment.

Important Prop 65 information for California residents.
Jackson RACKSTAR44 Specifications
PDF Spec Sheet
| | |
| --- | --- |
| Manufacturer | Jackson |
| Length (in) | 44 |
| Racks per Hour | 223 |
| Sanitizing | High Temp |
| Heat | Electric |
| Product | Dishwasher |
| Product Type | Dishwashing Equipment & Supplies |
| Weight | 1.00 |
Jackson RACKSTAR44 Certifications