The Jackson AJX-44 conveyor dishmachine is constructed from stainless steel, including the frame and legs, for durability and corrosion resistance. The bullet feet are adjustable for level installation on uneven floors. A front dress panel hides internal components to keep them from becoming damaged. Splash shields prevent water from getting all over the floor and other surfaces and sit on both ends of the unit. There is an 18-inch separation between the wash and rinse sections of the unit for ideal cleaning. The 25-inch clearance throughout the machine allows you to easily wash larger items, such as mixing bowls, trays, pans, and more.
Controls on this dishmachine are electromechanical instead of solid state for easier use. There is an exhaust vent fan control to help keep vapors from venting into the room. As a rack passes through each section of the unit, EnergyGuard™ turns on each cycle. The processes are fully automatic, including the auto-fill. You can manually control how fast the conveyor runs with Adjust-A-Peak™ so time spent in each section is longer so your dishes can be fully cleaned.
The stainless steel wash pump is self-draining for your convenience. Scrap baskets in the machine are stainless steel and collect food debris so it is not constantly being circulated over dishes that are trying to be washed. When you place your order for this machine, you get decide how your dishes are sanitized; you can either use high-temperature water or chemicals. High-temperature water sanitation provides you with up to 225 racks of clean dishes per hour, and each rack uses 0.68 of a gallon of water. Chemical sanitation can produce up to 209 racks of dishes by using 0.78 of a gallon of water on each rack.
In addition to choosing how you want your dishes sanitized, you also get to decide if your machine is heated by steam or electricity. Depending on how your kitchen is set up, you may want the Jackson AJX-44 conveyor dishmachine to run left-to-right or right-to-left. Since your electrical power is already set up in your establishment, this unit is available in 208, 230, and 460 voltages, along with 1 or 3 phase electrical connections.
Product Details
Controls are electromechanical
EnergyGuard™ controls turn on each cycle as the rack passes through each section
Exhaust vent fan control
Adjust-A-Peak™ feature lets you manually control how fast the conveyor runs so you can extend the amount of time the rack is in each cycle, slowing the machine down to wash heavily soiled wares
Processes are fully automatic, including the auto-fill
Self-draining wash pump is constructed from stainless steel
Scrap baskets are stainless steel and collect food debris so disposing of it is easy
18 kW wash tank heater
High-temp sanitizing models clean 225 racks cleaned per hour
High-temp sanitizing models use 0.68 gal. of water per rack
Chemical sanitizing models clean 209 racks per hour
Chemical sanitizing models use 0.78 gal. of water per rack
Overall Dimensions: 44 in. W x 25 in. D x 751⁄2 in. H
cETLus listed; NSF certified
Product Features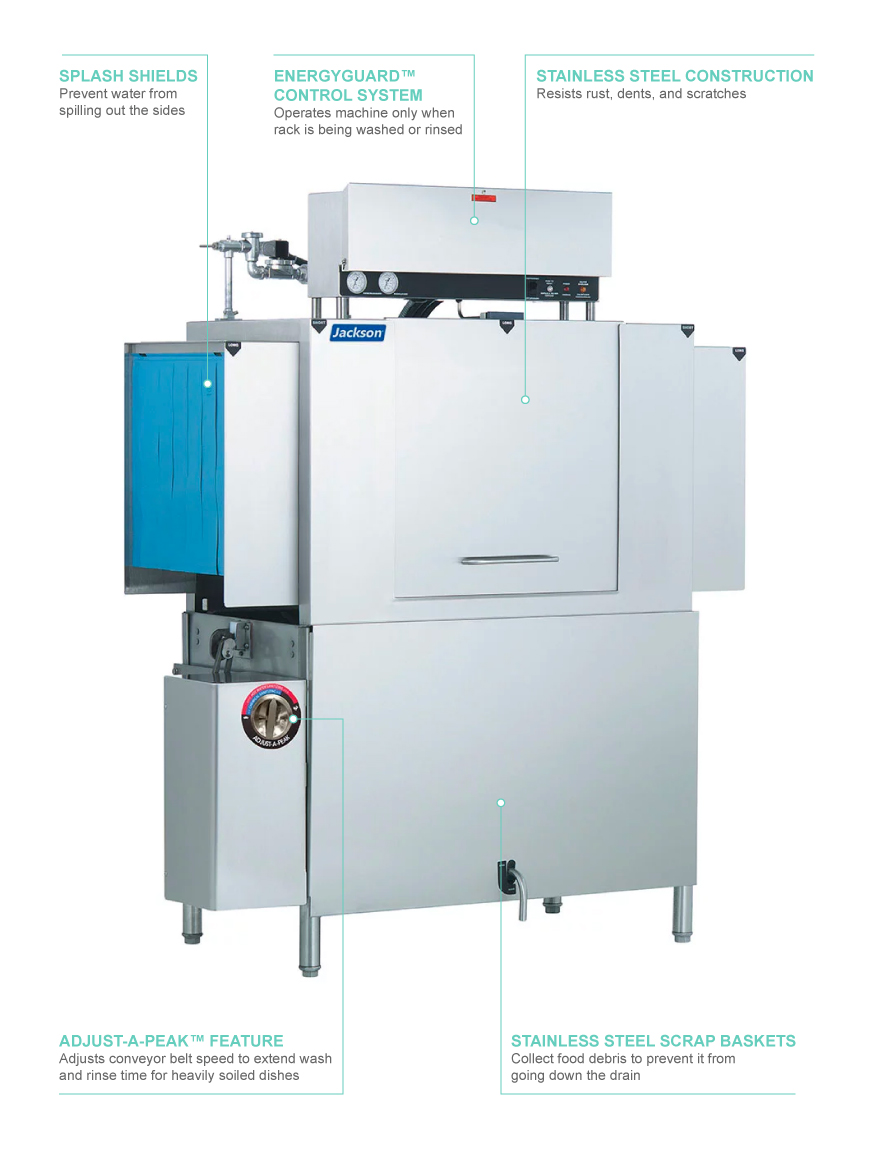 Construction
Stainless steel construction is durable and corrosion resistant
25-in. clearance lets you easily wash mixing bowls, sheet pans, and more
18-in. separation between wash and rinse cycle provides ideal cleaning
8-in. splash shields on both ends prevent water from getting on exterior surfaces and the floor
Front dress panel hides internal components so they will not become damaged
Frame and legs are made from stainless steel for durability and corrosion resistance
Bullet feet are adjustable
Options
Steam or Electric Heat: Choose if your machine will be heated by steam or electricity. If you have access to steam heat from a central boiler, steam heat would be more cost effective.
Sanitation Method: Decide if you want to sanitize dishes through chemical sanitization or high-temperature water. Click here to learn more about these options.
Conveyor Direction: You must choose if your machine will work right to left or left to right, depending on the workflow of your wash room.
Voltage and Phase: This unit is available in voltages of 208, 230, or 460. You might have to choose if it connects to a 1 or 3 phase power source. If you are unsure which options will accommodate your establishment, contact an electrician or the building's maintenance department.
Booster Heater: If you decide to sanitize your dishes with high-temperature water, you can choose between a regular booster heater or a steam booster heater to ensure your water is hot enough to effectively sanitize dishes. The regular booster heater uses an electric element to heat the water while the steam booster heater connects to an external steam source. Choosing the regular booster heater means you'll need to decide between a 40 or 70 degree Fahrenheit temperature rise.
Sideloader: You can choose to have your dishmachine equipped with a sideloader so it can be installed in a corner and loaded from the side instead of the end. It comes in 23 or 30 inches and hooded or unhooded.
1⁄2 in. Pressure Regulator: If you want to ensure your water pressure stays consistent so your dishmachine works properly, you need the 1⁄2 in. pressure regulator.
Flanged Feet: Bolt your equipment to the floor to ensure it will not move with flanged feet.
Blower Dryer: You must choose if you want to include a blower dryer on your machine so your dishes will be dried quickly instead of having to let them air dry.
Vent Cowl Collars: Connecting your dishmachine to a steam exhaust system is much easier with vent cowl collars. They come in a set of two.
Prison Package: Available for correctional facilities that need to have hardware and components that are fully secured to prevent inmates from taking the machine apart.
Drain Quench System: Make sure the water that drains from your machine is not too hot with the drain quench system. This components decreases water temperature to below 140 degrees Fahrenheit.
Scaltrol: You can choose to have this system installed to ensure scale is prevented from building up on the internal components of your dishmachine.
Water Hammer Arrestor: Protect your equipment from sudden water surges when the valves open by installing the water hammer arrestor in the water supply line.
Strikeplate Table Limit Switch: This machine can be ordered with a table limit switch that attaches to a receiving table to stop the machine when the table is full, conserving water and energy. It also helps prevent components from becoming damaged.
Compartment Racks: Your dishes need to be placed in racks to ensure they stay secure during the sanitizing process. Glasswear is perfect for the 36-compartment rack that comes in 41⁄8-, 55⁄8-, or 7-in. heights. Other options include combination, peg, and sheet pan racks.
Dishwasher, conveyor type, high temperature sanitizing, single tank design, adjustable conveyor speed, approximately (225) racks/hour capacity (0.68 gallons per rack), 25"H clearance through machine, stainless steel construction, electric tank heat, vent fan control, cULus, NSF
*The warranty will not be honored for residential or non-commercial use of any Commercial Equipment.

Important Prop 65 information for California residents.
Jackson AJX-44 Specifications
PDF Spec Sheet
| | |
| --- | --- |
| Manufacturer | Jackson |
| Length (in) | 44 |
| Racks per Hour | 225 |
| Heat | Electric |
| Product | Dishwasher |
| Product Type | Dishwashing Equipment & Supplies |
| Weight | 1.00 |
Jackson AJX-44 Certifications