Workshop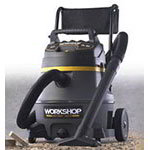 The Performance Series from Workshop include a variety of vacuum designs including the high-capacity vac and high-power cart vac. The cart Performance vacuum design has an easily reached storage bag to keep accessories at hand, and the large rear wheels make it easy to go up stairs or to operate on rough terrain. The Qwik Lock™ filter fastening system on each Performance Series vacuum makes it easy to change the filter, and the drum is made of copolymer to resist rust, dents, and cracks.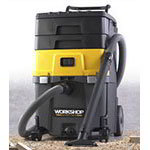 Each Specialty Series vacuum from Workshop is designed to be portable and powerful. There are a variety of designs, from a wet/dry vacuum that is no larger than a tool box to a detachable vac that doubles as a leaf blower. Each is designed to accept different attachments and use the Qwik Lock™ filter system. The Specialty cart vacuums are designed to have easily accessible storage to hold any extra supplies for your convenience.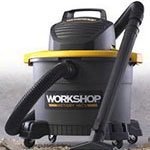 These Workshop Utility Series vacuums come in a variety of capacities and the unique design keeps the hose and accessories at hand to easily change out brush heads and nozzles. These wet/dry vacuums are mobile and portable with a large carry handle on top for transport while empty, and the built-in drum handles make it easy to lift once the bin is full. A drain placed at the lowest point of the vacuum makes draining easy, and the copolymer drum is resistant to dents, cracks, and rust.