Three cheers for three years: Victory in commercial refrigeration warranties

When it comes time to make a big purchase like buying a commercial refrigerator, you're likely looking for the best value, which means the most capable unit within your budget. And, when you make an investment like that, it's nice to have some assurance that if something goes wrong, the company that made it is ready to stand behind it. Those who buy commercial refrigerators from Victory Refrigeration can have that confidence, as the company announces a three-year warranty for all its units and an additional two years of parts coverage for its compressors.
Parts and labor protection for a wide selection of commercial refrigerators
Victory Refrigeration offers a large variety of models, including reach-ins, roll-ins, blast chillers, worktop units, undercounter units, sandwich/salad prep tables, dual temperature cabinets, warming cabinets, and pizza prep tables. This new three-year warranty will cover all those commercial refrigeration models for parts replacements and labor to make those fixes for any issues that arise as a result of faulty equipment or flaws in construction.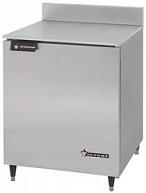 The condenser unit, which provides the cooling in every commercial refrigerator, is also covered by this three-year warranty on parts and labor. Once it runs out, though, this cold-producing heart of the system is still protected for another two years for parts replacements. That's an amazing total five years' protection for those critical components.
If you just bought a Victory Refrigeration, you may still be covered. The three-year warranty is standard on every commercial refrigerator ordered after March 1, 2013.
The three-year warranty and the condenser coverage specifically exclude installation, start-up, normal maintenance, food loss, or other consequential damage. They also exclude components that are removable without tools. Victory Refrigeration also reserves the right to examine any commercial refrigerator subject of a warranty claim. The coverage is also only valid for customers in the United States and Canada.
Victory: A commercial refrigerator and heated cabinet company built on innovation
Though a bit less known than some of the big boys in commercial refrigerators, Victory Refrigeration is nonetheless producing some tremendous units with amazing capabilities. Victory's units are especially popular in colleges, universities, hospitals, schools, prisons, and other similar institutions, though they're also trusted by plenty of chefs in fine restaurants.
Obviously you expect every commercial refrigerator KaTom sells to have a cabinet, at least one door, and the ability to hold a cold temperature inside. What the folks at Victory believe sets them apart are their efforts to make every unit they manufacture smart, intuitive, and user-friendly.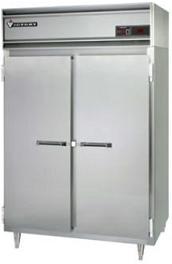 That work may be most evident in their ULTRASPEC Series, which combines most everything they've learned about creating quality commercial refrigeration over more than 65 years. That includes the V-TEMP control system, technology that is unparalleled in the industry.
V-TEMP has a memory that can record the exact time, date, and duration of up to nine critical HACCP events, including power failures. There is a SuperCool mode that turns the commercial refrigerator "constant on" when new food is added to it, achieving a quick chill to bring that to a safe temperature. An energy saving mode is automatically activated during periods when the doors have not been opened within four hours.
Contact KaTom to find any Victory Refrigeration model you need
These ULTRASPEC models and all Victory commercial refrigerators are available through KaTom, even if they're not on our website. If you're looking for a model and can't find it online, or if you just want more information about Victory Refrigeration or its new three-year warranty, please contact us at 800.541.8683 or info@katom.com.