Picnic Time
For over 30 years, Picnic Time has been creating products that inspire people to spend more time with their friends and family. Today, their product range includes picnic baskets, insulated food and drink totes, folding chairs, and collapsible barbecue equipment. Some of their products serve multiple purposes, such as can coolers that are rigid enough to be used as a seat, and most of their totes include a range of pockets to maximize space usage. Some picnic sets include full picnic service, including plates, flatware, tumblers, cutting boards and a corkscrew. Picnic baskets, folding seats, coolers, and outdoor cooking equipment use lightweight materials with easy folding designs to maximize their usage while being compact enough to travel with. Their range of portable seating is designed with or without legs and most include backpack-style straps for easy transportation. Most items include waterproofing on fabric and insulation in areas designed to store food and beverages.
Enjoy picnics or sports games in comfort with Picnic Time sports and leisure items. Folding chairs combine comfortable materials with lightweight construction, making them easy to transport and store. Seats are designed with or without legs for a variety of locations such as beachs, parks, and stadiums. The insulated food and drink totes keep food cool and have multiple pockets to keep items organized. A waterproof lining keeps contents protected from outside moisture.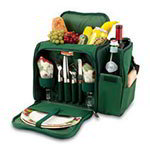 Picnic Time picnic supplies include coolers, carrying totes, and picnic services to cover all the items needed for a successful outdoor event. Items are designed to be portable, including the collapsable metro basket and foldable charcoal grill. The heavy-duty coolers and can coolers are sturdy enough to sit on so you don't need to bring a separate chair. Picnic Time picnic supplies are lightweight and portable, making it easier to organize your next excursion.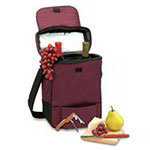 Transport cool drinks and food easily with the Picnic Time wine and cheese coolers. Insulated wine and cheese totes keeps beverages cold, and some include a chopping board, cutting knife, and waiter-style corkscrew to make it easy to prepare and enjoy a snack on-the-go. Picnic Time wine coolers have room for up to two bottles and can also be used to transport food. These wine coolers are fully waterproofed and insulated, maintaining the temperature of your wine and cheese.