Seasoning Cast Iron Cookware Made Easy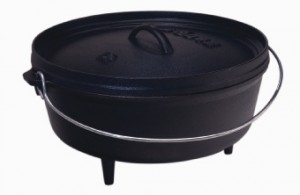 How do I season my cast iron cookware? And what does it mean to season cast iron cookware, anyway? These are questions that have been asked by home chefs for generations.
Both are good questions and ones that come with, to some people's surprise, fairly simple answers. Though maintenance of cast iron cookware has been saddled with the unfortunate reputation of being a difficult and time-consuming chore, that's far from reality. Do you have to put some effort in from time to time to ensure your Lodge cast iron skillet gives you years of perfectly golden fried chicken? Absolutely. But the work is nothing that should seem daunting. Just think of it as a trade-off for having cookware that you don't have to give regular soapy cleanings.
What exactly is seasoning cast iron cookware, anyway?
Seasoning cast iron cookware simply means giving it a light, baked-on coating of oil, which serves as a protective barrier against moisture from cooking and other wet parts of kitchen life. That means it's safe from rust and other corrosion. The seasoning also gives cast iron its legendary non-stick properties.
Which cast iron cookware pieces need to be seasoned?
Seasoning must be performed on non-enameled cast iron cookware. Though pieces from Lodge, America's only cast iron foundry, now come preseasoned, the company still recommends a quick rinse with warm water and then application of a thin layer of oil right out of the box.
How often should I season my cast iron cookware?
A good rule of thumb is to reseason your cast iron cookware at least once a year, though the work may need to be done more frequently depending on usage. To start the process, simply give the piece a good wash with warm water and soap. If you waited too long between seasonings or for some other reason rust started to grow on the cast iron, simply scour it to remove the oxidation, then wash.
How do I season my cast iron cookware?
When your cast iron cookware is clean and dry, apply a very thin (we mean that, because otherwise the piece will become sticky) layer of oil, either a melted solid vegetable shortening or some other cooking oil. Let's say you have a Lodge cast iron skillet. You'd want to apply that oil inside the pan, outside it, and even on the handle. That's to ensure the corrosion-preventing seasoning is spread evenly across the piece.
With the oil on, place a sheet of aluminum foil or an empty sheet pan on the bottom rack of your oven, to catch potential oil drips, and heat it to anywhere from 350-400 degrees F. When it's done preheating, place your Lodge cast iron skillet on a rack above the foil or pan and leave it to bake for at least an hour. When that time's up, simply turn the oven off and leave the piece inside as it cools. That prevents it from cooling too quickly and warping or being compromised, and keeps you from having to handle the super-heated heavy metal. When the cast iron cookware has returned to room temperature, it's ready for either storage or its next job.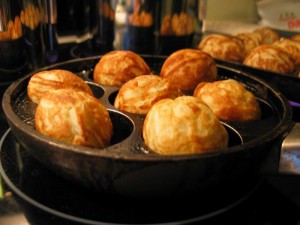 KaTom offers a full selection of cast iron cookware from Lodge, Staub, and several other companies that produce these unique and lasting kitchen tools. For more information about cast iron cookware, please contact one of our customer service representatives at 800.541.8683 or by e-mail at info@katom.com.