Blendtec
Blendtec offers professional blenders, mixers, and mills with innovative designs that create consistently smooth products every time.
These residential blenders feature large, powerful motors and an innovative square jar design, allowing you to quickly mix anything into a smooth consistency.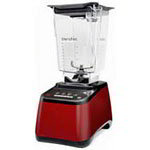 With many different options available, you'll find a blender for any task your kitchen needs to accomplish. Self-serve, automatic blender systems are also available.