Arctic Air
All Arctic Air units are certified to NSF Standard 7 and have endured rigorous required testing to receive that NSF label. Arctic Air commercial refrigerators and freezers tend to be hundreds of dollars less expensive than competitive brands made of stainless steel. Arctic Air refrigeration units are white poly-coated steel and come in both solid and glass doors. The Arctic Air commercial freezers are white poly-coated steel as well. It's this construction that allows these commercial refrigeration units to be sold to the consumer for such a great cost. While Arctic Air refrigerators and freezers look somewhat like residential refrigerators because they're white, they are still commercial refrigerators in every other way, including the same high quality features and a one year parts and labor five year compressor warranty.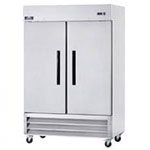 Looking for some quality refrigeration that will last in your commercial settings? KaTom has just what you need with Arctic Air commercial grade refrigerators! Since Arctic Air commercial grade refrigerators are built for heavy duty use you can be sure they'll last! KaTom also sells fine Arctic air freezers that are sure to keep your goods icy cold. For the best in Arctic air freezers and refrigeration make KaTom your top choice today!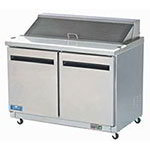 With the Artic Air Food Prep Tables, you can choose the model that fits your restaurant's needs. With multiple shelves and cabinets of varying sizes, these commercial prep tables are ideal for salad bar prep, sandwich and sub stations applications and other similar functions. And with the various sizes that are available, the Artic Air Food Prep Tables can fit in virtually any size of restaurant. Shop KaTom to pick up these Artic Air commercial food prep tables for your restaurant today!