Andersen Mats
In your line of work, whether a restaurant or other type of business, Andersen Mats has all of your restaurant and commercial floor mats! These high-quality mats are offered with a variety of attributes including: slip resistance, safe for welding, lifetime anti-microbial treatment to prevent odors and degradation of the mat, and much more.
Here at KaTom, we know that having a resilient floor mat is part of what keeps your workplace dirt free and also helps keep your employees from having unfortunate slips. Regardless of your commercial mat needs, KaTom Restaurant Supply offers the best in Andersen Mats.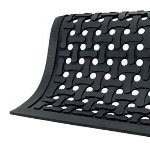 Here at KaTom, we know how hard you try to keep your establishment clean from the constant traffic. Which is why we carry Andersen Mats. Andersen Mats are an expert source for commercial floor mats, restaurant mats and floor protection mats. Made to outlast the competitors and able to absorb more too, we're sure you'll love Andersen Mats as much as we do! KaTom Restaurant Supply carries Andersen floor protection mats and other types of mats for your convenience.
Your business has constant foot traffic in the front lobby. Unfortunately, this area is also the first thing that potential clients see when they tour your facility. With Andersen Entrance Mats, you can keep this area clean and safe even during the highest traffic times! Andersen Mats specializes is creating high quality mats that are resilient, absorbent, and enduring. Keep your place of business cleaner by shopping with KaTom Restaurant Supply and seeing all that Andersen Mats has to offer.