Forget the Guess Work and Rely on the Mirage's Presets, Stir-Indicator, and Bright LED Screen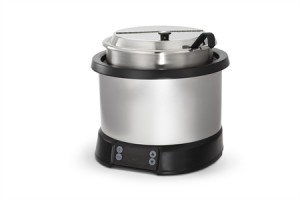 When it comes to your busy commercial kitchen, you often need all the extra help available. Between prep work, cooking, and serving, you need restaurant equipment that works for you, and Vollrath has certainly kept that in mind.
With over 135 years in the food service industry, they have the practical experience and knowledge to develop products with just the right combination of convenience, innovation, and durability. Vollrath's Mirage Induction Rethermalizer is just another example of how Vollrath incorporates these qualities and yields a great tool for your commercial kitchen needs.
It May be a Mirage, but this Induction Rethermalizer is Certainly the Real Deal
Vollrath's Mirage rethermalizer utilizes dry heat and the power of induction to warm and hold your pre-cooked foods. Heat is transferred directly to the induction-ready inset, removing the need for water refilling and monitoring. Both the induction-ready inset and cover are included.
The convenient heating process is coupled with a unique three-sensor temperature system to maintain a constant, accurate temperature and indicate to the operator when to stir the food products. The temperature and stir notifications are indicated on the highly visible LED screen. This allows even a novice to successfully maintain the heat and moisture levels in any food product.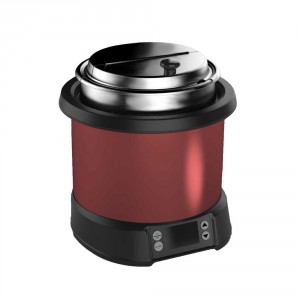 The LED screen utilizes white light for high contrast and an easy-to-read display. Vollrath's Mirage is also equipped with temperature control in Fahrenheit and Celsius, has presets for soup, mac and cheese, and chili, and has a locking function to prevent unauthorized people from changing settings. This means less food waste from overheated or burnt food.
The Vollrath Mirage Induction Rethermalizer is available in both 7- and 11-quart sizes and can be ordered in red or stainless steel. Though it comes standard with one induction-ready inset and lid, additional ones may be purchased separately.
These Vollrath rethermalizers also help protect the safety of the food products you're offering your customers. They're designed to take cooked food from a refrigerated temperature below 40 degrees F to 165 degrees in less than 90 minutes, holding it above 150 degrees indefinitely provided the product is stirred regularly. That means your food spends less time in the HACCP "danger zone," which is sure to make health inspectors and your customers happy.
Ready to Upgrade Your Commercial Kitchen with Vollrath?
With all the options, built in technology, and easy-to-use qualities, the Mirage rethermalizer is the complete package for your busy commercial restaurant. Whether you are ready to place an order or still have a few questions, contact KaTom today for all your Restaurant Supply needs. To speak with a friendly team member, call 1-800-541-8683 or email info@katom.com