Star Manufacturing's Ultra-Max Hot Plates Deliver Superior Cooking Capabilities in a Compact Counter Top Unit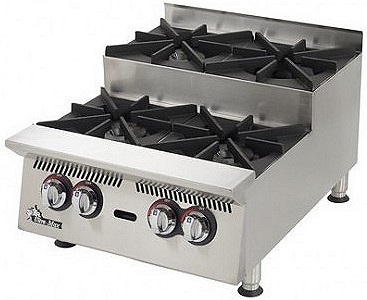 Hot plates have come a long way since heating countless cans of SpaghettiO's® and boiling water for Ramen noodle dinners in college dorm rooms. Countertop hot plates have become an excellent addition to space-starved commercial kitchens because they come with all the features, capabilities, and superior performance provided by massive, space-hogging ranges, but in a compact package that fits neatly on your kitchen's counter top.
Star Manufacturing Ultra-Max hot plates have taken this intelligent piece of equipment to another level (literally) with their new step-up design. Available in widths from 12 to 48 inches and with 2, 4, 6, or 8 burners, Star's step-up hot plates feature elevated back burners, which make for an easier, more comfortable cooking and sauteing experience.
Star's Ultra-Max Hot Plates: Constructed for Rugged Durability, Energy Efficiency, and Safety
Star updated their gas hot plates with high quality stainless steel fronts and ends on all their models, with a double wall construction and enclosed bottom for maximum energy efficiency. You can also say good-bye to flimsy plastic knobs; Star's Ultra-Max hot plates come with heavy-duty metal knobs, guaranteed to withstand harsh conditions in your commercial kitchen. And, while you're turning up the independent thermostat knobs to increase the up to 30,000 BTU of powerful gas heat this hot plate delivers, its front edge remains safely cool to the touch.
Star's Smartly Designed Ultra-Max Burners Reduce Maintenance
Activate the standing pilot on Star's hot plates' rugged cast iron burners to rapidly boil a pot of water for pasta or simmer a delicate sauce, with perfect, even heat distribution. The non-tilting design of this commercial hot plate's burners makes it easy for multitaskers to slide their cookware from burner to burner as needed. And, its anti-clogging, 12-in. x 12-in. burners and built-in crumb tray reduce necessary maintenance. Adjustable legs elevate Star's hot plates 4-inches from your counter top, making it easy to clean underneath, while matching seamlessly with other Star Manufacturing equipment in your restaurant's kitchen.
Whether you need 2 or 8 burners, Star's Ultra-Max hot plates are available in sizes to fit any venue's requirements, with 12-, 24-, 36-, and 48-inch widths. This versatile, practical piece of equipment will take you through countless foodservice applications and comes backed with a competitive 3-year parts and labor warranty. Star Ultra-Max hot plates are also available in floor models to suit individual preference.
Browse KaTom's selection of Star's Ultra-Max hot plates and other Star Manufacturing equipment to select the best hot plate for your commercial kitchen. For any questions or assistance purchasing Star Manufacturing's Ultra-Max hotplates, please contact a KaTom customer service representative at 1-800-541-8683 or email us at: info@katom.com.