Breeze through the toughest situations with the heavy-duty Star Manufacturing Ultra-Max char-broiler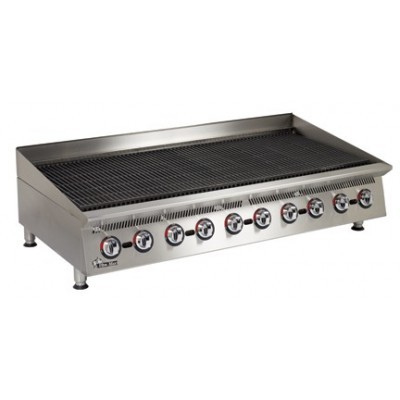 When it comes to commercial kitchens, you need equipment that is durable and able to stand up to a demanding environment. You need equipment that allows you to adapt to every new challenge. The Star Manufacturing Ultra-Max char-broiler does just that.
Engineered for durability and equipped with the latest in zone-cooking technology, the Star Ultra-Max char-broiler combines the best in time-tested technology with exciting, new features. The char-broiler is available with both lava rock and steel radiant heating. The lava rock provides superior heat distribution, which vaporizes drippings for an incredible flavor and the steel radiants deliver greater heat transfer than industry-standard cast iron or stainless steel. These unique radiants won't bend or crack from thermal heat. Even more importantly, whether you opt for lava rock or radiant steel, it's backed by a three-year parts and labor warranty.
In addition to the new warranty program, the Ultra-Max line boasts a variety of other options sure to suit your commercial char-broiler needs. The Ultra-Max line comes equipped with 20,000 BTU cast iron burners every six inches. These cast iron tubular burners allow control of each burner/grate individually and include standing pilot lights. With this flexibility, you could simultaneously grill a variety of food items at varying temperatures. Star Manufacturing has gone a step further with attention to aesthetics and added heavy-duty metal knobs with cool to the touch technology for comfort and safety.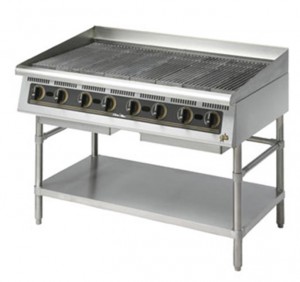 The grilling surface of the Star Ultra-Max char-broiler is available in 24-, 36-, 48-, and 72-inch wide surfaces and comes in a countertop and floor model. The 25-inch extra deep cooking space allows for 30 percent more cooking space than competitors. Just think of all the space and temperature ranges you can achieve on your Star char-broiler. Each commercial char-broiler comes with a specially designed steel drip deflector to distribute vaporized juices back onto the grill's surface and into the food. This design ensures maximum flavor and even heat distribution.
The Ultra-Max Char-Broiler is a must in your commercial kitchen. STAR's design and quality stand up for your heavy-duty needs and provide the reliability you require daily. If you're looking for the next kitchen Star, start here with an Ultra-Max char-broiler.
If you are interested in learning more about the Star Ultra-Max line or other char-broilers, contact KaTom today at 1-888-541-8683 or by email at info@katom.com.