Scrumptious and EASY White Chocolate (Cranberry) Macadamia Nut Cookies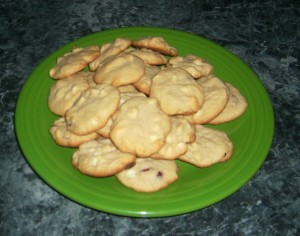 Although I've been obsessed with cooking since I was a young girl, I didn't actually pick up baking until just a few years ago. If you bake you'll quickly agree that it is both a precise science and an art...one which intimidated me. My first "creations were honestly horrible; desert dry biscuits, salty pastries, and tarts that could break your teeth off. It wasn't until I found this recipe that I felt comfortable firing up the ovens.

Because these cookies are so rich and buttery I decided to add my own little twist to the recipe: dried cranberries, the raisin's underused cousin. I find that the little bit of additional tartness really goes a long way and I've been baking them that way ever since!

If you've got a sweet tooth anything like mine you'll definitely enjoy these simple, delicious cookies.
White Chocolate (Cranberry) Macadamia Nut Cookies
What you'll need:
1 cup softened, unsalted butter
¾ a cup packed light brown sugar
½ cup white sugar
2 cage free organic eggs
½ teaspoon almond extract
½ teaspoon vanilla extract
2 ½ cups all purpose flour
1 teaspoon baking soda
½ teaspoon salt
1 cup chopped macadamia nuts
1 cup white chocolate chips
½ cup dried cranberries (totally optional but also really tasty!)
To make these cookies I first preheat the oven to 350 degrees. In my KitchenAid Stand Mixer I cream together the softened butter and sugars until smooth. Next I add the eggs, one at a time, and then toss in my vanilla and almond extracts.
In a bowl combine the flour, salt, and baking soda. In fifths I gradually add the dry mix to the creamed mixture. Once it's well combined I stir in the macadamia nuts, chocolate, and cranberries. Using a small spoon drop the cookie dough onto ungreased cookie sheets and bake for about 10 minutes or until a light brown. This recipe makes about 3-4 dozen cookies, depending on the size of your spoon.
-Heather