Rustic & Spicy: Heather's Hot Chorizo Hash Recipe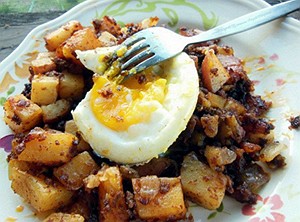 Here I go again with my love of breakfast foods.
I have had a mad craving this week for some good old fashioned hash. Something about potatoes in the morning really gets my mouth watering. Unlike the common corned beef version though, I decided to pair the potatoes with spicy chorizo sausage for an extra BITE that is sure to open the eyes of anyone who eats it.
Do you dare to try a bite?
I pity the fool who doesn't.
Seriously though, don't let the chorizo scare you. Sure, this recipe is a little spicy but take into consideration the many benefits of the spice! Mexican chorizo (the most common chorizo in the USA) contains a lot of chili powder. Chili powder contains vitamin A, vitamin C, several beneficial minerals, Capsaicin (which helps to reduce inflammation in the body), and can aid in keeping your insulin levels in check. Tasty was never this good for you!
One of my favorite qualities of this recipe is that it is a "set and forget" recipe. Sure, you have to stir it once in a blue moon but honestly it allows you to get ready for work/school/etc. while it's cooking up. The poaching of the eggs is the most attention seeking part of this recipe. All in all, this hash is very simple to make and is going to be a hit at your house or Bed and Breakfast!
Heather's Hot Chorizo Hash Recipe

What You'll Need:
2 lbs. red potatoes, diced
1 sweet onion, diced fine
4 chorizo sausage links, casing removed & chopped up
1/2 teaspoon black pepper
Salt
½ stick butter
4 eggs
A cast iron skillet, like my Lodge cast iron skillet
An egg poacher, like my Vollrath egg poaching set
Optional: shredded cheese & sour cream for garnish
Instructions:
Heat a cast iron skillet over medium heat
Melt the butter
Add the diced potatoes, chorizo, and onion to the pan, stirring occasionally
Cook until potatoes are soft & browned, about 40 minutes
Poach the eggs
Stir the salt and pepper into the hash
Plate the hash
Place one poached egg on top
Garnish with shredded cheese and/or sour cream (if desired)
Enjoy!
Just thinking about cooking this makes me hungry. I can see this being a pretty easy camping recipe too (minus the poached eggs) which makes it a double winner in my book!
Until next time,
-
Heather ;)