Orange You Glad For This Recipe?: Candied Orange Peels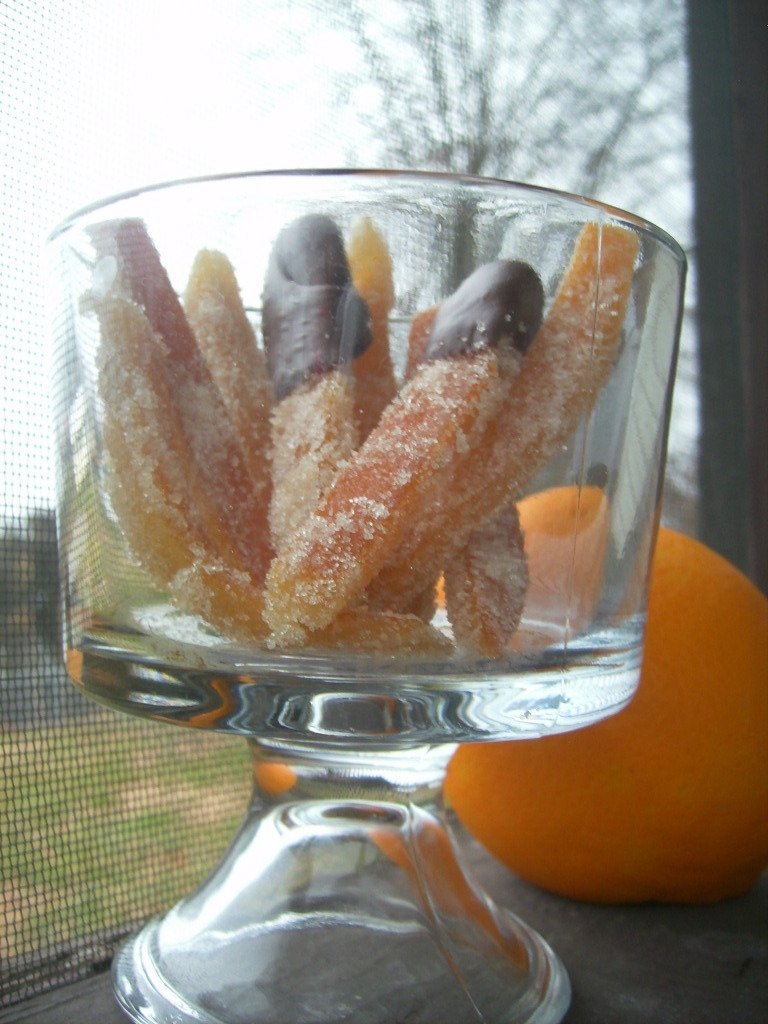 Winter means the addition of dull, slightly gloomy days with snow or (if you live in of the valleys of Tennessee) ice cold rain. It's this time of the year that calls for more bright fruits that remind us of the warmer months. For instance, I've been eating oranges like it was nobody's business. As soon as I pop one of their plump slices into my mouth, the vibrant juicy flavor makes me grin like a monkey that has happened upon an abandoned truck load of bananas. The smell also takes me back to a time when my mother made homemade soap with orange rind included. I recently bought soap much like my mother's from a co-worker and ever since I've been wondering what I could do with all of my extra orange peel.
You aren't going to see me suited up to make soap in this video, oh no. I have no time for that and I would much rather have something that I can chomp into. I decided on trying my hand at crafting a candy I had once seen on a cooking show: candied orange peels. Having never eaten a candied peel of anything, I wasn't exactly sure what to expect. Needless to say...I was very pleasantly surprised. THESE ARE SO YUMMY! A word of warning though...you may have a hard time NOT eating them. I know its rough but stay strong; share them with your friends!
Candied Orange Peels
What You'll Need
3 Navel oranges, preferably organic
Cold water for boiling
¾ cup water
2-1/4 cups granulated sugar, plus extra for rolling
A quality candy thermometer, like this model by Taylor Precision
Optional: chocolate for dipping
Instructions
Cut the ends off of each orange
From top to bottom, make a slice through the peel and pith, not cutting the tender orange meat
Divide each orange peel into 4 pieces
Slice the peels top to bottom so that they are about ¼ inch thick
Add the peels to a pan
Add enough cold water to cover the peels
Bring to a boil and then drain
Repeat steps 6 & 7 two more times (this makes the peels less bitter)
Remove the orange peels from the drained pan
Add the ¾ cup water and the sugar to the pan
Mix well with a whisk
Bring to a simmer and cook until the syrup has reached soft thread stage (230-234 degrees F)
Reduce the heat and add the peel strips to the syrup
Let cook for 45 minutes or until slightly translucent (DO NOT STIR!!!!)
Drain off and save the syrup for drink recipes
Gently roll each peel strip in sugar
Add the strips to a rack to dry for at least 4 hours
Optional: dip them in chocolate for an extra delicious treat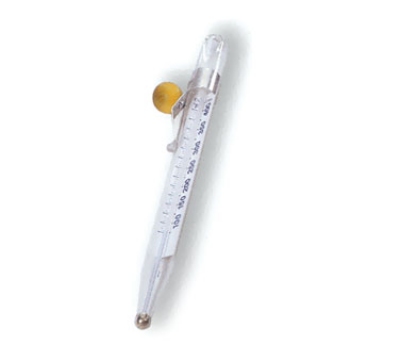 I've been eating these all morning! My office mates agree that they're pretty fantastic. The best thing is, the orange oils from the peels linger in your mouth; talk about a yummy breath freshener! Use these candied orange peels as a garnish or package them up nicely as a gift. Either way, they will be eaten fairly quickly.
I think this is going to send me on a candying kick. My co-workers have already mentioned ginger and grapefruit as new options. I was also considering trying my hand at making old fashioned candied apples. It's not nearly the same process but I reckon that makes complete sense when you're comparing apples to oranges.
Have a great weekend!
-
Heather ;)
Recipe courtesy of foodnetwork.com