Mercer Cutlery Training For KaTom Employees!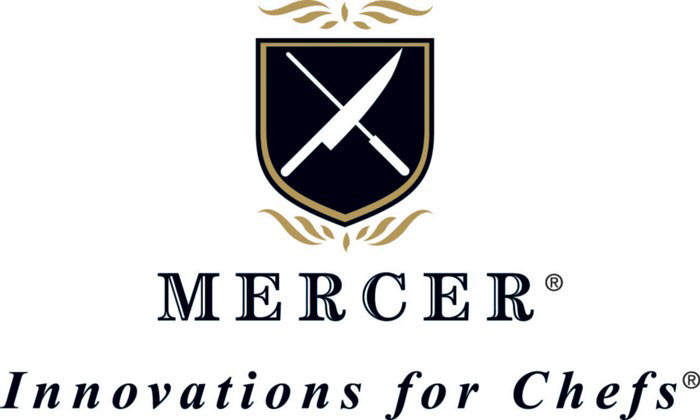 This week, KaTom Restaurant Supply employees learned about Mercer kitchen tools and utensils...and man, were they sharp!
For those of you who don't know, Mercer is a respected manufacturer of commercial knives, kitchen tools and utensils. In fact, most culinary schools use Mercer products due to their affordable cost, longevity, and durability. High demand from graduated culinary students encouraged Mercer to add their wares to the commercial food service market where they have been very successful in their endeavors. What else would you expect from a company ran BY chefs FOR chefs?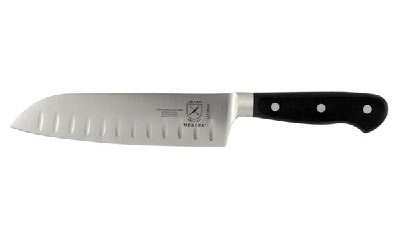 Mercer knives come in two main types: Forged or Stamped. Forged knives, often the top choice for serious chefs, are made to be extra strong by tempering the blade during production. Mercer currently has two forged knife series: Genesis & Renaissance. Both series are made with high carbon German steel that will keep its edge longer. Renaissance and Genesis series knives feature full tangs for superior balance and durability. The weight of these knives feel great in your hand and further impress with ergonomically designed handles. Unlike the Renaissance series, Genesis series knives' don't show the back of the blade through the handle.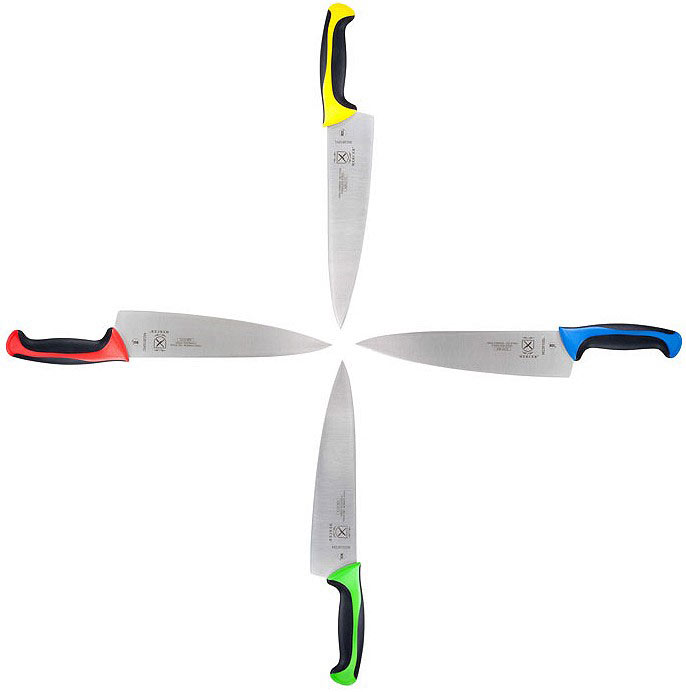 Mercer's stamped lines (Millennia & Ultimate White) are just as sharp with a 15 degree sharpened blade angle made with Japanese steel. The (Mercer Millennia Primary4 series comes in 4 color choices that make them perfect for HACCP compliant food prep. Your employees will know to use the red knife for only red meat, the blue knife for fish, the yellow for poultry, and the green knife for vegetables, thus reducing the chances of cross contamination. These color coded knives also come in handy as each color can be assigned to an individual chef. Knowing which knife each chef is responsible for will help to reduce knife theft in your establishment.
Mercer also makes an Asian knife collection. Mercer's Asian inspired knife line feature high carbon German steel blades and balsam wood handles. These knives are the only series by Mercer that is not NSF approved. You'll be happy to know that Mercer also offers Asian Collection knives with rubber handles that are NSF approved!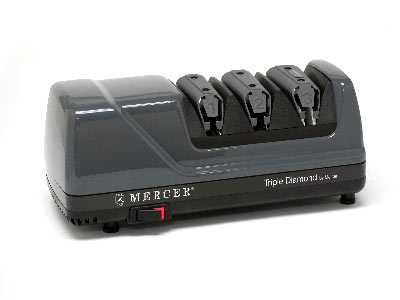 The KaTom crew also learned about Mercer's fine knife sharpening tools! There is no reason to use a knife sharpening service that gives you rental knives when you can sharpen high quality Mercer knives for less cost! Mercer sports a great selection of sharpening tools including Diamond steel sharpening steels and the easy to use http://www.katom.com/132-M10000.htmlTriple Diamond 3-stage electric sharpener.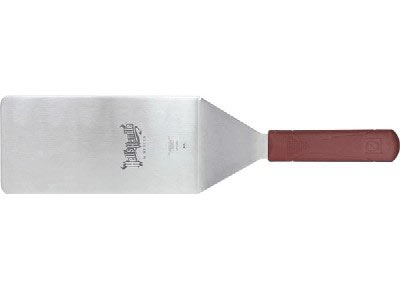 Other than offering a great selection of knives and knife sharpening wares, Mercer has also come out with high heat turners, their Hells Handle line. What makes Mercer Hells Handle turners great is the fact that they flex in the middle of the turner, not at the base of the handle. This ensures better turning and durability. The handles on Hells Handle turners are made to withstand 450 degree heat and absorb 50% less heat than other brands. This will keep your employees safer from accidental burns!
Do you have any questions about Mercer Cutlery? Leave us a question or comment on the blog, send us a tweet, hit up the KaTom Facebook wall, our Google+ account, or our Youtube channel!!!
Follow @KatomRS