Can't Find Your Manitowoc Indigo Commercial Ice Maker? Just Look Up.

Up in product numbers and up in energy efficiency, that is. Because Manitowoc Ice is constantly innovating and has found a way to improve on ones of its most impressive commercial ice machine lines to date. The Indigo series now includes units that were actually built to exceed not only current ENERGY STAR requirements, but also efficiency standards of the future.
The latest upgrades include changes to the Indigo Series 850 commercial ice machines, which you may notice disappearing from the KaTom website slowly over the next little bit. They'll be replaced by the Indigo i906 Series, which is going to take the already impressive Indigo commercial ice makers to a new level, and not just because their product numbers are higher than their predecessors'. Indigo i906 models include the air-cooled Manitowoc ID-0906A and the water-cooled Manitowoc ID-0906W commercial ice makers.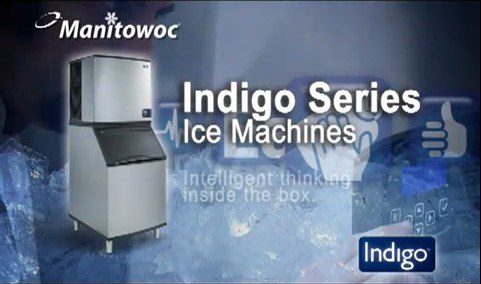 The upgrades include a significant uptick in the amount of ice each machine can produce in a 24-hour period. In fact, you'll find 11 percent more cubes in the bin each day on average with a Manitowoc Indigo i906 Series commercial ice machine. With the ID-0906A air-cooled dice commercial ice maker, that means a yield of 874, compared to the 785 pounds you could expect from the same-size ID-0852A.
But, just because you're making more ice doesn't mean you're also using more power and water. On the contrary, the amazing works inside the new Indigo commercial ice machines actually (as you would expect from the earlier paragraphs) cut your resource usage! Here are some stats:
Energy usage is decreased by 14 percent from the i850 models.


Eighteen models in the i906 commercial ice maker line will exceed ENERGY STAR 2.0 requirements for efficiency.


ENERGY STAR-certified commercial ice machines, on average, use 10 percent less water than standard models.


Super-Efficient Commercial Ice Machines With All the Features of the Manitowoc Indigo Series
All that comes on top of the already amazing features list of the Manitowoc Indigo line. Each of these commercial ice makers offers intelligent diagnostics, a feature that helps inhibit harmful deposits, an easy-to-read and -operate control system, and management controls that save you money. They also keep more of your greenbacks in your wallet if there is a need for service, because the technician can simply plug into the machine and find out immediately what the issue is without the need for poking around under the hood.
In addition to the i906 series, the folks at Manitowoc promise they'll soon be upgrading more of their Indigo Series machines to comply with ENERGY STAR 2.0. That means even more savings and even more options for you! We'll keep you posted as we hear more about these great ice makers.
If you'd like more information about the new Manitowoc Indigo i906 Series commercial ice machines, please contact KaTom at 1-800-541-8683 or info@katom.com.