A buying guide for KitchenAid mixer attachments
So you've used our buying guide to figure out which KitchenAid mixer is perfect for you or the home chef in your life and now you're ready to customize your new kitchen mixer with some of those great KitchenAid accessories. Only now the question is, which KitchenAid attachments are perfect for your mixer?
This is one of those cases where you don't need to ask why you should choose one brand over another. Come one, KitchenAid mixers and KitchenAid attachments were literally made for each other. But if you did force us to answer the question, "Why should I pick KitchenAid accessories?", we would well you it's because they make your KitchenAid mixer eminently useful. Beyond giving you amazing options for creating your own fresh foods, they also provide quality and reliability that home chefs the world over have come to trust.
It's hard to look at the full slate of KitchenAid mixer accessories available from KaTom and not immediately answer, "All of them!" Come on, what home chef doesn't dream of making his or her own currant and liver preserves with a meat grinder, then putting said preserves into ravioli made with KitchenAid pasta makers? OK, maybe not. But there are some amazing KitchenAid attachments and we're happy to help you wade through the list to find the perfect mixer accessories for every home chef you know.
Jump to:
KitchenAid pasta makers
KitchenAid food grinders
KitchenAid produce slicers and juicers
KitchenAid ice cream maker
KitchenAid attachments sets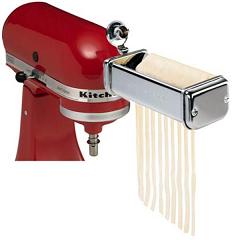 Perfect for: The name probably gives it away, but these pasta maker accessories are great for making any kind of noodle, from narrow angel hair to broad lasagna sheets, from stuffed ravioli to skinny fettuccine. These really are a great addition to a KitchenAid mixer because you can prepare an entire dish, from dough to noodle and even the sauce, with one piece of kitchen equipment.
What are my options?: KaTom offers KitchenAid attachments that cut standard pastas like spaghetti, roll the dough and cut it, form complex shapes like macaroni and rigatoni, and even pasta makers in kits that run the gamut.
So the entry-level, if you will, pasta maker among the KitchenAid accessories is the standard pasta cutter. You prepare the dough, roll it out and feed it through the attachment. As you do, the pasta maker creates perfectly-sized angel hair spaghetti and thicker noodles like linguine.
Another basic pasta maker in the KitchenAid attachments lineup is the pasta roller, which will eliminate the tedious task of rolling out your dough into perfect sheets for cutting. Pair that with the pasta cutter accessory and you've got quite the dynamic duo.
There are also KitchenAid attachments that do both the rolling and cutting of the pasta dough. Simply create your dough using your KitchenAid mixer, then put the pasta maker into the attachment hub and go from dough to perfect noodles in just seconds.
KitchenAid offers some more complex pasta makers, including one that will form ravioli you fill yourself, maybe with something you produced yourself using your meat grinder KitchenAid attachment, and a Gourmet Pasta Press that allows you to effortlessly create fancy pastas with your KitchenAid mixer. Six included interchangeable pasta maker plates will extrude spaghetti, bucatini, rigatoni, fusilli, and small or large macaroni.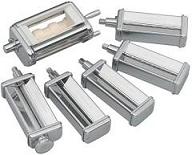 If you just can't decide which pasta maker will pair beautifully with your KitchenAid mixer, why not go with all of them. Or just about. The KitchenAid Pasta Excellence Set includes a pasta roller and five different pasta cutters that produce lasagna, spaghetti, fettuccini, thick egg noodles, angel hair, and ravioli.
Once you've used your pasta maker KitchenAid accessories, you may find you want to dry your beautiful noodles to save them for later. It just so happens KitchenAid offers a pasta drying rack with 16 polycarbonate rods centered on a chrome-plated steel post that collapses for easy storage. Capable of holding more than 4 pounds of pasta, it comes with its own "magic" wand, which helps you harvest your pasta from the pot, move it to the drying rack, and cut it when it's ready. Admittedly, this one is more of a handy kitchen gadget than one of the KitchenAid attachments.
Back to "Jump to" menu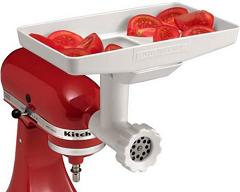 Perfect for: These KitchenAid accessories enable you to create fresh meat products, from burgers to sausages, and produce your own salsas, sauces and purees.
What are my options?: From meat grinders to sausage stuffers to grain mills to KitchenAid attachments that grind and strain fruits and vegetables, there's an accessory for that.
This category is essentially built around the basic meat grinder or food grinder attachment, which can make fresh meat suitable for burgers, meatballs, or any of a number of ground meat foods. It can also process fruits and vegetables, produce shredded or coarse cheese, and even grind spices for recipes. It ships ready to plug into your KitchenAid mixer, with a stomper for pushing food through the food grinder and interchangeable plates for coarse and fine grinding.
The meat grinder pairs well with the food tray KitchenAid attachment, which increases the space you have for holding ingredients that are about to go into the hopper. It's a handy accessory if you have a lot of food to grind at one time and saves you from having to rush from the counter to the top of your KitchenAid mixer with portions.
Once you've run your food through the meat grinder, there are KitchenAid attachments that enable you to make your own sausage. These add-ons to the food grinder accessory include a coupler that affixes either a 3/8-inch tube for small links or a 5/8-inch tube for larger sausages. Simply insert the end of the tube attached to your KitchenAid mixer into your casing of choice and fill as you push food through the meat grinder.
Next on the list is the KitchenAid fruit and vegetable grinder and strainer, which uses the same process as the meat grinder to produce puree from healthy fruits and vegetables. Simply feed cooked or soft produce into these KitchenAid attachments and it does the rest of the work for you. Make smooth applesauce and even baby foods. With the included strainer, you can also get fresh juice out of your processed produce.
Your KitchenAid mixer can also enable you to produce quality dough for breads from wheat to loaf, thanks to all-metal grain mill KitchenAid attachments. Simply fill the hopper and produce flours or even your own freshly-ground coffee, with consistencies ranging from "cracked," or with just the husks broken, to extra fine. We've even heard of some folks using this KitchenAid mixer add-on as part of the process of making beer at home. If you're using it to make flour, you can even create your dough in the KitchenAid mixer so you get a great loaf from a single appliance. Well, you'll want to get the oven involved, but you get the point.
Back to "Jump to" menu
Perfect for: Anyone looking to put some healthy fruits and vegetables in their diets, whether in salads, juices, or even carrot cakes.
What are my options?: The heading for this category pretty much says it all. There are KitchenAid accessories that chop, grind, and juice food.
The slicer and shredder KitchenAid mixer attachment can produce coarse or fine shreds, thick or thin slices. It comes with four conical graters that produce varying sizes of pieces from the firm fruits and vegetables you feed into the hopper. Great for preparing salads, it's also a wonder for recipes that call for grated produce, like zucchini bread or carrot cake. These KitchenAid attachments can also be used to shred cheeses, from sharp cheddars to crumbly parmesan.
The list of KitchenAid accessories in this category also includes the citrus juicer, which does exactly what its name implies: It provides a motorized method of extracting juice from fruits like oranges, lemons, and grapefruits. Like other KitchenAid attachments, it plugs into the hub on the front of any KitchenAid mixer, looking like a typical citrus juicer turned on its side. The reamer turns on its own, with the resulting juice flowing through a strainer that captures seeds and pulp. Your waiting glass below is filled with a fresh, delicious, and healthy drink.
Back to "Jump to" menu
Perfect for: Making ice cream. Sorry, we know that was obvious, but we have to have this section to keep continuity.
What are my options? Just the ice cream maker KitchenAid attachment. Again, sorry for the obvious questions. Maybe, just to make it interesting, we should list the sausage stuffer here.
By equipping your KitchenAid mixer with the 2-quart bowl, you can produce homemade soft-consistency ice cream in half an hour or less. You simply freeze the bowl, add your ingredients using your own recipe or those included with this attachment, and set your KitchenAid mixer running. It does the work of churning for you, with an included dasher reaching every part of the bowl to ensure an even ice cream, sorbet, or gelato.
Back to "Jump to" menu
Perfect for: Really anything, since these sets of KitchenAid attachments include nearly every accessory made for those wonderful KitchenAid mixers.
What are my options? Would anyone be mad if we just said, "Almost everything?"
With a trio of great KitchenAid attachments packs available, it's probably going to be easier to do this if in a list format, so here goes.
* Produce grater and slicer, meat grinder, and fruit/vegetable grinder and strainer KitchenAid accessories.
* Citrus juicer, food tray, meat grinder, and sausage stuffer KitchenAid mixer add-ons.
* Meat grinder, produce grater and slicer, and sausage stuffer KitchenAid attachments.
Back to "Jump to" menu
More questions about KitchenAid attachments? Turn to KaTom
If you still have questions about which KitchenAid mixer accessories are right for you, please call one of our helpful customer service representatives at 800.541.8683 or e-mail us at info@katom.com.