KaTom Employees Recieve Turbo Air Training!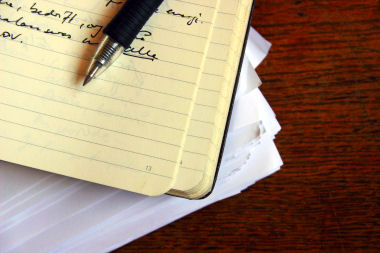 Today KaTom Restaurant Supply employees received an ample amount of training on Turbo Air products. Rick Blinson (Executive Vice President) and Andrew Kim (Sales and Marketing Manager) were kind enough to be our educators on this bright Monday morning. We all learned a lot about Turbo Air's commitment to high quality construction, ISO 9001 compliancy, energy efficiency, and much more!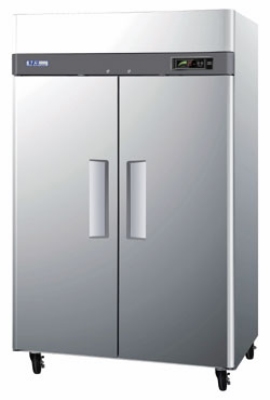 For saving energy, there seems to be no better choice than a Turbo Air unit. Due to a great design, Turbo Air is able to keep Energy Star 2 compliant without downsizing the compressor. This saves your establishment money on energy costs without compromising refrigeration quality. Turbo Air takes the energy challenge up a notch when it comes to their 3 door freezers. Each 3 door freezer features not 1 but 2 compressors! Since the compressors take turns working to keep your foods frozen the life of each compressor is considerably lengthened. Longer lasting compressors equal less repair costs in the long run. These freezers will also save you money and energy by automatically shutting the fan off when opened. Not only does this function save energy, it keeps your unit from sucking hot outside air into the cabinet.
Turbo Air refrigeration isn't just energy efficient, these pieces are user friendly! With traits like an open door feature for simple, hands free loading and bright LED lighting you can bet Turbo Air is a brand to beat!
If you know anything about refrigeration, you know just how important keeping the condenser clean can be. A dirty condensing unit makes for inconsistent cabinet temperatures as well as high repair costs that could have been easily prevented. This brings us to one of the coolest features we learned about Turbo Air's freezers! Each Turbo Air freezer features a condenser brush for added cleanliness.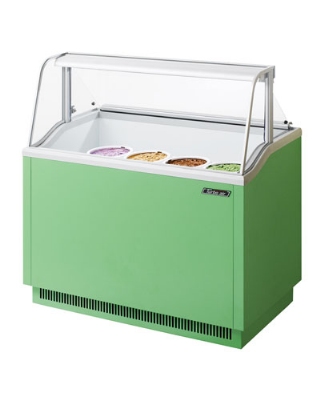 We were also very impressed with Turbo Air's selection of ice cream dipping cabinets. Unlike other brands, a Turbo Air ice cream dipping cabinets won't fog up due to a more thoughtful and efficient design. This increases product visibility for a better presentation. These ice cream dipping cabinets aren't just all about looks though; you won't ever have to temp your ice cream tubs with a ready to scoop internal temperature. Other brands of ice cream cabinet keep ice cream at temperatures as low as -20 and can vary in temperature depending on the location in the cabinet. A Turbo air ice cream dipping cabinet stays at a consistent 0 degrees, no matter the location inside. After all, consistency is dependability!
Turbo Air helps you to save and conserve energy with their line of open air merchandisers! As many of you know, when hot air meets cold, condensation forms. Many other brands use heating to take care of the extra water in the condenser pan. Turbo Air thought that this was a big design flaw, after all, why would you want to add more heat to the mix with a cooling piece of equipment? Turbo Air open air merchandisers feature a hot gas condensate removal system that sucks up the excess water and uses hot air from the condenser itself to efficiently remove the liquid. This method has not only proven useful, it is more energy efficient!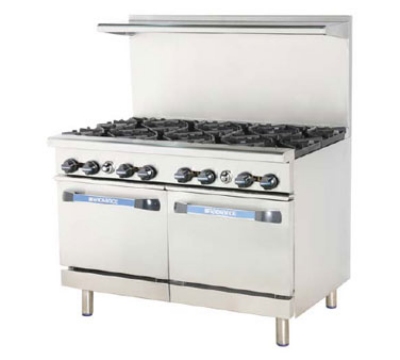 Turbo Air also manufactures high quality pieces of kitchen equipment like heavy duty German knife slicers, microwaves, sinks, extra strong stainless steel prep tables, and radiant heat ranges. You'll be happy to learn that Turbo Air, unlike many other brands that use brackets and nuts, use a welding method when constructing their radiant heat grills. This adds considerably more lasting power to the unit. The radiant grill ranges that feature ovens are also bakery depth for easily accepting full size pans. Talk about helpful!
All in all, our Turbo Air training session went great! If you're looking for a more affordable refrigeration or kitchen equipment solution without a compromise on quality, take a look at KaTom's Turbo Air selection!
Do you have any comments or questions? Let us know by submitting a comment on the blog, writing on the KaTom Facebook wall, tweeting @KaTomRS, or even sending us a message on the KaTom Youtube channel!