It's TV Dinner Day!
Create Your Own Frozen Dinner
Salisbury Steak with Mushroom Gravy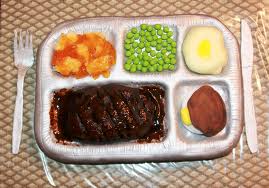 Recipe and photo courtesy of http://www.families.com
Today is TV Dinner Day! And you're thinking: Really? We're celebrating horrible frozen Salisbury steak and rubbery squares of carrots? Well, frozen dinners have come a long way since their invention in the 1950s. And now, many people are making their own frozen dinners. It's much healthier and less expensive. And to honor the most famous TV Dinner entrée, the Salisbury steak, we have a great recipe to create a frozen dinner of your own.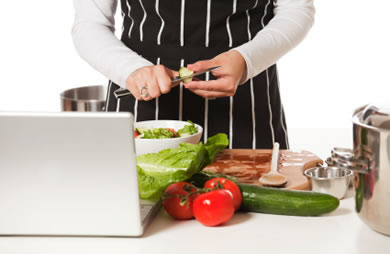 What You Will Need:
1 pouch dry onion soup mix, divided
2 cups water
1 1/2 lbs. Uncooked ground beef
1/4 cup lightly packed parsley, chopped
1/4 cup flour
1 1/2 Tbs. butter or margarine
1 onion, peeled and sliced
4 oz. mushrooms
1 beef bouillon cube
Directions:
Mix 2 Tbs. of onion soup mix and 1/4 cup water in a large bowl. Add beef and parsley and mix with hands until blended. Shape into 4 oval patties, about 5 inches long and 2/3 inch thick. Coat patties with 1 1/2 Tbs. flour. Melt butter in large skillet over medium heat. Add patties and cook about 10 minutes, turning once, until crusty and no longer pink in the middle.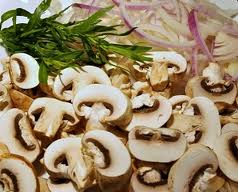 Remove from heat and cover to keep warm. Add onion, mushrooms and 1/4 c. water to drippings in skillet. Stir with spoon to scrape up stuff on the bottom. Reduce heat to medium low, cover and cook, stirring occasionally, until onion and mushrooms are soft, about 10 minutes. Mix remaining soup mix, 1 1/2 cups water and 2 1/2 Tbs. flour in a bowl. Stir into mushroom mixture, add bouillon cube and bring to a boil. Cook, stirring often, until thickened, about 3 minutes.
When ready to FREEZE: Add gravy to gallon freezer bag, place 4 patties in bag turning to coat. Freeze flat.
When ready to SERVE: Thaw and heat in skillet on stove top.