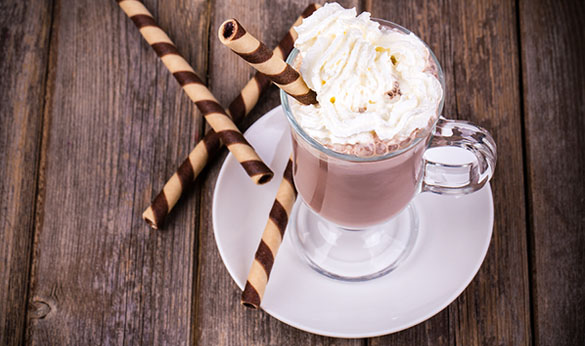 It's National Chocolate Milkshake Day
September 12th is National Chocolate Milkshake Day and it's time to put a modern twist on a classic. This milkshake has a cinnamon spice flavor that goes well with seasonal flavors and can be topped with whipped cream with cinnamon.
Chocolate Chai Milkshakes
Adapted from Savvy Eats
Serves: 3-4
Ingredients:
2 chai tea bags
1 cup half and half
2 cups heavy cream
1/4 cup cocoa powder
2 oz. chopped chocolate
1 tsp. vanilla extract
1/2 cup granulated sugar
Directions:
Dip the chai tea bags into the half and half in a small bowl, and allow to steep for 8-10 minutes. Remove the tea and squeeze the bags over the bowl. Combine the half and half with the rest of the ingredients in a medium sauce pan.
Cook over low heat, stirring often, until everything has warmed through and chocolate is completely melted. Remove from heat and refrigerate for at least 1 hour. Allow the mixture to cool completely.
Pour the liquid into your ice cream maker and process according to the manufacturer's instruction. Stop the ice cream maker when the ice cream is just beginning to get smooth and creamy. This way, you will have the milkshake texture without blending the ice cream with more milk or cream.
Divide among 3-4 glasses and serve.