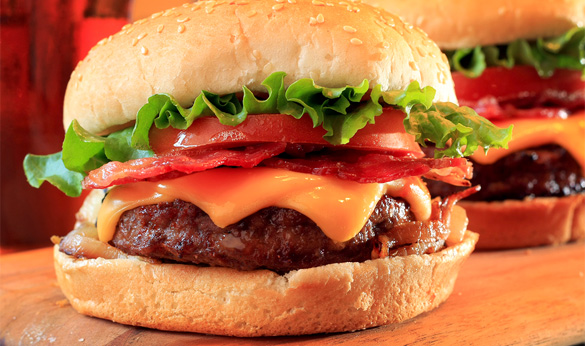 It's National Cheeseburger Day
September 18th is National Cheeseburger day and to celebrate, KaTom brings you these spicy cheeseburger sliders. These spicy burgers have chipotle chili powder mixed in and are topped with pepper jack cheese for a bit of a kick.
Spicy Cheeseburger Sliders
Adapted from Beef It's What's for Dinner
Makes: 8 sliders
Ingredients:
1 lb. ground beef (96% lean)
9 small whole wheat hamburger buns, split, divided
1 clove garlic, minced
1/2 tsp. ground chipotle chili powder
2 slices pepper Jack cheese, cut in quarters
Toppings: Barbecue sauce, lettuce, tomato slices, pickles (optional)
Directions:
Tear one hamburger bun into pieces. Place in food processor or blender container. Cover and pulse on and off, to form fine crumbs.
Combine bread crumbs, beef, garlic, and chili powder in medium bowl, mixing lightly, but thoroughly. Lightly shape into eight 1/2 inch thick mini patties.
Place patties on grill over medium, ash-covered coals. Grill, covered for 8-9 minutes over medium heat (on preheated gas grill, 9-10 minutes) until instant-read thermometer inserted horizontally into center registers 160°F, grill on each side. Evenly top with cheese during the last minute of grilling.
Place burgers on bottoms of remaining eight buns. Garnish with desired toppings. Close sandwiches.