The KaTom team is in the Christmas spirit
It's Christmas party time at KaTom! Our new home is decorated throughout with tinsel, lights, and beautiful trees. We gathered around one of them in our new break room for the annual KaTom Christmas party today. We've shared fellowship, a few laughs, and some precious memories over plates of delicious food prepared by our True Refrigeration representative Bill Roberts, his wife Barbara, and their daughter Kayla. They have made a tradition – one of our favorites, we should add – out of this wonderful meal and we appreciate them so much for it.
Since it's the time for giving, we also took the opportunity of the luncheon to give our fearless leader, our founder and CEO Patricia Bible, a little token of our appreciation. One of our staff, Janelle Ronsse, created a beautiful platter emblazoned with the KaTom logo to which we all signed our names. Patricia said it will be a wonderful reminder of all the blessings we enjoy here at KaTom, which we believe start with our amazing staff.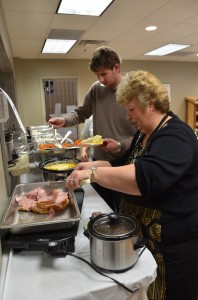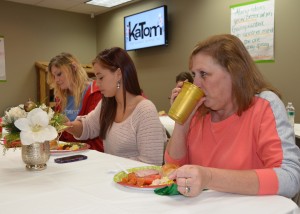 At left, Barbara Roberts slices a delicious ham as Vice President of Business Development John Chesworth waits for his share. Above, some of our KaTom crew enjoy their Christmas lunch.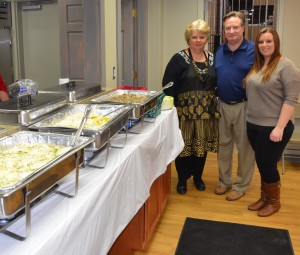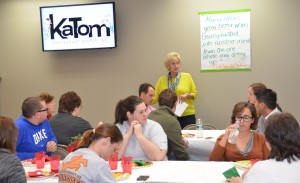 The Roberts family - Barbara, Bill, and Kayla - wanted their delicious creations to be the star of this picture, but they were really the stars for providing us this great Christmas lunch. Patricia used the time to express her appreciation to the members of the KaTom team, each of whom she offered some kind words about.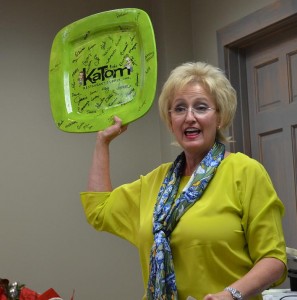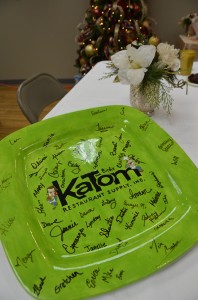 Patricia is very proud of her early Christmas present, which is adorned with the signatures of all the KaTom crew.