Hobart restaurant equipment is trusted by countless chefs
For more than 115 years now, Hobart restaurant equipment has been a standard in restaurants the world over, from the company's first electric motors to today's Hobart commercial kitchen equipment. That's why KaTom is proud to partner with Hobart to offer its quality products to our customers. And what a range of products it is, covering a dozen categories and hundreds of individual items. That's why we offer this handy guide to one of America's best friends in the kitchen.
Like with any purchase of foodservice equipment, whether it's your first buy or a replacement, the most important consideration in shopping Hobart restaurant equipment lines with KaTom is knowing what's on the menu. That will decide whether you need a fryer and a combi oven, or a mixer and a griddle. So keep your plates in mind as you read on.
Jump to:
Hobart commercial fryers
Hobart commercial slicers
Hobart commercial peelers
Hobart commercial food processors
Hobart commercial dishwashers
Hobart commercial ovens
Hobart commercial disposers
Hobart commercial mixers
Hobart commercial scales
Hobart commercial griddles
Hobart commercial salad dryers
Hobart commercial toasters
Hobart commercial vacuum packaging
Perfect for: Battered and breaded foods from catfish to onion rings
Why Hobart restaurant equipment?: Hobart commercial fryers are versatile and the company's gas units are 53 percent more efficient than their closest competitors, which either means more money or utility savings for you.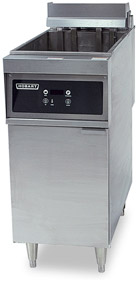 Hobart restaurant equipment offers all-stainless-steel tube-type fryers perfect for cooking most anything battered or breaded, from cheese sticks to chicken. But everybody can do that. What the other guys aren't doing is providing the most efficient gas fryers on the market. In fact, these models are 53 percent more efficient than the nearest competitor, meaning they leave the rest of the pack in the dust.
Hobart has also found some remarkable ways to make working with their fryers easier. All these Hobart restaurant equipment units include a compensating computer that can help reduce product loss and offers melt cycles for adding solid shortening. Standard on all electric models, the heating elements swing up for easy cleaning of the sediment zone. Hobart's gas models offer electronic ignition, meaning the operator doesn't have to light the pilot. And Hobart offers a host of accessories and options for their fryers that your KaTom customer service representative can help you explore to make sure you're getting the best build for your kitchen.
Hobart fryers are available from KaTom in 50-pound units that are something of a restaurant kitchen standard and heavy-duty 85-90-pound models that come equipped with an in-unit oil filtration system. Those behemoths allow for volume output that is great for busy eateries.
Back to "Jump to" menu
Perfect for: Delis and sandwich shops, places that make roasts and other items fresh that could use a quick cut
Why Hobart restaurant equipment?: Whether you need a standard slicer or one that's a bit more productive, Hobart commercial slicers offer exclusive touches like a removable carriage system and Microban antimicrobial protection.You'll find a wide range of Hobart restaurant equipment slicers that can handle both regular and high demand work, with features that allow for higher yield, easier cleaning and consistent quality.
Heavy-duty Hobart commercial slicers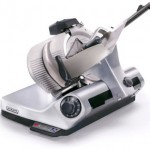 The flagship line of heavy-duty Hobart commercial slicers is the 3000 Series, which was recently completely revamped using suggestions from real-world users, meaning touches from top to bottom that make them easier to use. These heavy-duty units come with a list of features too considerable for easy summary. All of it, though, is about making sure you get the most productive, simplest-to-operate, and safest slicer on the market. From zero knife exposure to an exclusive tilting to a removable carriage tray, the 3000 Series is packed with details that will make it a welcome addition to any foodservice operation.
Also in the heavy duty class is the 2000 Series, which comes with Hobart's trademarked CleanCut knife for exacting results, the exclusive removable carriage system and a top-mounted Borazon stone sharpener. The unit is also treated with Microban's antimicrobial protection, which helps fight bacterial growth between regular cleanings.
Medium-duty Hobart commercial slicers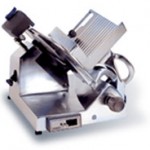 In the medium-duty grade, Hobart restaurant equipment offers the Edge and Edge12 slicers, both perfectly suited for medium-duty slicing. Each model offers features like anodized aluminum bodies that protect against bacterial growth and Hobart's exclusive Poly V Belt Drive System, which allows for a quieter and more efficient slicer.Hobart commercial slicers are available with a range of options that allow you the chance to change things like knife size and whether the system is manual, meaning the operator must move the carriage by the blade, or automatic, in which all the work is done by the machine. Units are available that can make slices from tissue-thin up to 1.25 inches in thickness.
Shop Hobart slicers with KaTom
Back to "Jump to" menu
Perfect for: Kitchens that will serve a lot of root vegetables, from potatoes to rutabagas
Why Hobart restaurant equipment?: Heavy-duty, durable units that can clean from 15 to 60 pounds of potatoes in just 3 minutes, all with a timer that can be adjusted to keep the product turning in 30-second increments up to 4 minutes.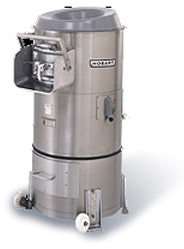 Anyone who's watched any of a number of mid-20th Century movies or television shows about military life is familiar with the scene: A punished private sitting on a stool in the corner of some drab kitchen peeling barrels of potatoes. If only those soldiers had a Hobart commercial peeler, KP duty would have been a lot easier.
With a stainless steel body and drive shaft, and a heavy-duty motor, they're built for high yields over a long life. They reduce waste, increase portions per load, and can plow through 15 to 60 pounds of potatoes in just three minutes, though they're just as effective with most any root vegetable. The silicon, carbide abrasive disk that does the work of smoothing off the peels is easy to remove, meaning it's easier to clean, and water inlets allow for the entire unit to be thoroughly washed during regular cleaning. Simple switches, a Lexan liner and a heavy-duty polyester plastic hopper cover also ensure these units are easy to keep spic and span.
To help make its peelers even more easy to use, Hobart also builds all of them with a timer that can be adjusted in any increment from 30 seconds to 4 minutes, which means they can be changed to meet either the load or based on how much peel you want to leave on.
Shop Hobart peelers with KaTom
Back to "Jump to" menu
Perfect for: Chopping and blending larger ingredients for things like salsas and sauces
Why Hobart restaurant equipment?: Patented features that keep food products in the blades mean processing takes less time, saving labor and utility costs.
KaTom offers a wide selection of Hobart commercial food processors (Go ahead, check them. We'll wait.) in both bowl-type and continuous-feed models. They all come with the sort of features you'd expect from Hobart, including motors strong enough to power through 5,280 pounds of dough, elements throughout to improve safety and durability, and the exclusive Cool Cutter knife system. But we'll tell you more about all that as we go along.
Hobart commercial bowl-type food processors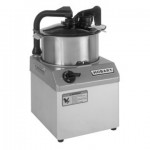 The right fit for smaller restaurant kitchens, Hobart's commercial bowl-type food processors, which have motors ranging from 0.75 to 2 horsepower, come with unique touches that take the hassle out of creating the perfect soup or grinding meat. Inside the units, a device patented by Hobart scrapes the product down toward the blades, to ensure even processing. Rubber feet prevent these processors from going for a walk as they work and a compact design means they take up less of your valuable counter space. This Hobart restaurant equipment is built durable from top to bottom, with Xylex covers and stainless steel bowls, and completes them with a unique triple-safety interlock that help protect the operator. Finally, certain units offer Hobart's exclusive Cool Cutter knife system, which use two serrated cutting knives and a pair of turning knives, all of stainless steel, to force the product into the blades. That results in reduced processing times and helps cut product temperature rise related to the grinding.
Hobart commercial continuous-feed food processors
One of the major problems with ordinary continuous-feed processors is that they have a tendency to stall under heavy loads, meaning you're left hanging in the middle of the job. That's why Hobart builds their units with a unique planetary drive system that helps prevent that and enables them to keep running without time between batches. That also makes them capable of handling loads ranging from 660 to a whopping 5,280 pounds of product per hour. Heavy-duty blades, high torque motors, large feed aluminum hoppers, and an innovative de-coring screw that keeps products away from the plate hub provide faster and more consistent results. And it's all under the command of a few simple controls.
Shop Hobart food processors with KaTom
Back to "Jump to" menu
Perfect for: Well, who couldn't use a dishwasher really? And Hobart restaurant equipment offers features that can save you time, effort, and money.
Why Hobart restaurant equipment?: A range of ENERGY STAR-rated models and even the industry's first ventless warewasher, which saves you money from not having to install or run a hood, and in water heating costs.
Hobart's experience and dedication to innovation really shine through in this category, which ranges from space-saving undercounter units to standard door-type and front load models to low temperature ones that can help save money on utilities.
Hobart commercial undercounter warewashers
KaTom offers both the LXi and SR24 series of Hobart commercial undercounter warewashers, with each a compact and economical option for low-volume establishments. LXI models are industry leaders, using less than a gallon of water per rack, earning them an ENERGY STAR rating while retaining the ability to clear 30 racks an hour. Hobart gives them an exclusive Sense-A-Temp booster heater that ensures your serving and cooking equipment comes out clean and sanitized. Meanwhile, the SR24 offers one-touch control; just close the door and you're cleaning dishes. The line is available in high-temperature and chemical sanitizing models, with the former capable of 19 racks per hour and the latter cleaning 14 in that time.
Hobart commercial door-type warewashers
When it comes to door types for warewashers, with Hobart restaurant equipment and KaTom you've got options. There are low-temp units that sanitize with chemicals, saving you money on utilities, and units with Sense-A-Temp booster heaters that quickly get water to a sanitizing 180 degrees, a system patented by Hobart. Both come with easy-to-use controls, durable stainless steel construction, and a Hobart-exclusive deliming cycle.
The real star of Hobart's door type offerings right now, though, are the advansys ventless models, which come with innovations that put them years ahead of other warewashers currently on the market. During the washing process, steam is captured in the top of the unit. When your dishes are clean, cold inlet water begins to flow in through metal coils in the upper area of the compartment. As it does, the steam condenses around it and is drained out as water, while the flow inside the coils is heated, saving you money both on running a hood to capture the heated moisture and on raising the intake water to the proper level. That means potential savings of $5,068 in the first year from utility cost reductions and not installing a hood, and $1,568 every year you keep it in your kitchen. These advansys ventless warewashers are also available in front-load models.
Hobart commercial utensil washers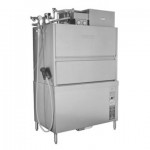 Hobart offers front-load utensil/pan washers suitable for the busiest kitchens, with durable 16-gauge stainless steel construction, solid-state heat controls, heavy-duty doors and hinges, and enough room behind the split doors to accept 16 full-size sheet pans or even a 140-quart mixing bowl. To help make those big loads a breeze, the lower door is pulled down, providing a shelf that can hold the stainless steel, pull-out rack. These units offer three wash cycle options to meet your needs and crank 2.1 gallons through a pair of revolving, debossed, anti-clogging wash arms on the top and bottom.
Hobart commercial conveyor warewashers
The perfect unit for the busiest kitchens, Hobart's CLe conveyor-type warewashers are the most popular and efficient warewashers on the market today. They bring an ENERGY STAR rating, the exclusive Opti-Rinse technology that cuts energy and water usage in half, and resulting potential annual savings of $9,192. Inside the unit, an auto-timer shuts off the pumps and conveyor if there are no racks in the machine, a patented Power Scrapper prewash removes even stuck-on food, and each tank is replenished with heated water from the prior one, saving energy and water. The drains are actuated by the opening and closing of the doors, meaning they're certain to be in the right position, while Hobart's patent-pending thermal layered curtains reduce heat loss on both sides of the process. Despite all the details that cut down on what it takes to run the machines, they can still handle as many as 8,550 dishes an hour. They truly stand at the head of the class.
Shop Hobart dishwashers with KaTom
Back to "Jump to" menu
Perfect for: Meats and especially chicken (rotisserie), steamed foods and breads (combination oven), and general baking and roasting (convection)
Why Hobart restaurant equipment?: A selection of three types of oven, each of which have Hobart innovations that assure good things like even heating and consistent results
KaTom's digital shelves are stocked with a variety of quality Hobart commercial ovens, including convection, rotisserie and combination units.
Hobart commercial convection ovens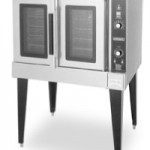 Hobart's commercial convection ovens offer consistent heating with options. For instance, every model offered by KaTom is available in both electric and gas models, with the ability to run on natural gas or propane. Because they're convection units, they bake quicker and provide the predictable results your star recipes need. Because they're Hobart kitchen equipment, they come with the only nationwide, factory-trained service organization from the manufacturer. They're available in half-size countertop units, and single- and double-deck floor models.
Hobart commercial rotisserie ovens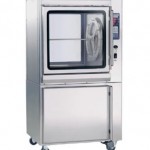 Hobart commercial rotisserie ovens provide flavorful cooking for as many as 269 chickens in a nine-hour day, far better than the 210 produced by a comparable unit. That's accomplished through a 22 percent faster cooking cycle, meaning you have more potential sales with more product prepared and save money on utilities. As a meaningful comparison, consider a kitchen where six loads of 35 chickens each are cooked per day. Based on average energy rates, that would cost $7.14 every day. A 22 percent faster cooking process, however, could accomplish the same work in less time, meaning a daily savings of $1.57. Over the course of a year, that adds up to as much as $573.05. Or, if you prefer to keep the oven running that extra time and producing more product, you could be looking at tens of thousands of dollars in extra revenue.
But the features aren't just limited to the cook cycle. Hobart's commercial rotisseries are also completely self-cleaning, with the simple press of a button initiating a sequence that takes no more work on the part of the operator. Additionally, these units have one-touch operation, with programmable cooking programs set to a number keypad. As the oven moves through the process, a digital screen shows the status, from preheating to cooking to holding.
Hobart commercial combi ovens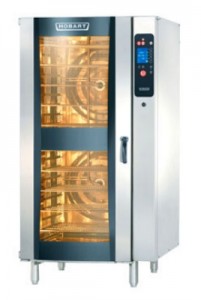 These Hobart restaurant equipment units offer three cooking modes: Convection, steam and combination. That makes them capable of an amazing range of cooking types, including everything from baking to steaming to proofing to reheating to low-shrinkage Delta-T cooking. Hobart equips its combination ovens with humidity and temperature controls, water filtration systems for boiler-based units, and the company's exclusive four-speed, auto-reversing fan with electrical braking that allows for precise control of airflow. That means consistent cooking without the need to rotate product.
Hobart also offers a remarkable add-on that could easily pay for itself over time in labor and product-loss reductions. The optional Hobart combi barcode scanner comes with computer software that allows you to create a barcode tied to every recipe in your menu. Each is cataloged and can be easily read by an included remote scanner. That's all it takes to get exactly the cooking program and the consistent results you need for your featured dish, from lasagna to chicken cordon bleu.
Back to "Jump to" menu
Perfect for: Any foodservice operation that will have a need to get rid of food scraps
Why Hobart restaurant equipment?: Heavy-duty units with features that ensure faster grinding and keep food waste in the blades, so it's all cleared out of the unit.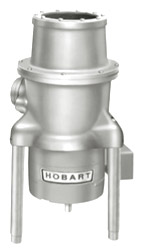 Whether it's getting rid of burnt-on food scraped off pans or cleaning the plates of finicky eaters, chances are good your commercial kitchen will have a lot of organic scraps to clear out. Hobart commercial disposers allow you to do just that without constantly loading up your trash cans.
KaTom offers Hobart commercial food waste disposers with two hardened stainless steel cutter blocks, a breaker blade that prevents food from getting stuck on the wheel, and precision-machined Ni-Resist flywheels to cut particles to easily-cleared pieces. If anything survives through all that intact, stationary shredder rings with 40 or more grinding teeth takes care of it. Those units can be reserved to run in the opposite direction, helping to clear jams.
At the heart of all this HObart restaurant equipment are motors that are rated for continuous duty, meaning they can keep running consistently for more than 60 minutes at a time without overheating. But that doesn't mean an hour of cranking noise filling your restaurant. These Hobart commercial disposers are surrounded by heavy aluminum housings to help reduce operating noise. Helping in that effort are vinyl isolating rings, that reduce vibration in the unit and, in turn, also cut the audible output.
Shop Hobart disposers with KaTom
Back to "Jump to" menu
Perfect for: Creating recipes that involve mixing wet and/or dry ingredients, especially things like dough
Why Hobart restaurant equipment?: From exclusive swing-out bowls to reliable belt-driven motors that plow through large and heavy batches, Hobart kitchen equipment brings the innovations that make these mixers the perfect fit for any commercial kitchen.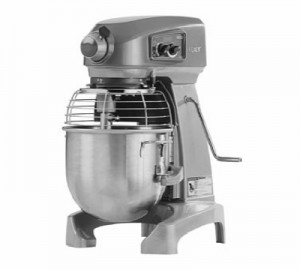 KaTom offers both countertop and floor-model Hobart commercial mixers that can handle from 5 quarts to 140, or as much as 220 pounds of dough. These units are great for everything from blending ingredients for a single bottle of your specialty barbecue sauce to mixing up dough for thousands of cookies in a single day. Along the way, Hobart mixers offer features that make your life a little easier like swing-out bowls available on the Legacy line and bowl lifts for floor units that mean you don't have to hoist those hefty loads of dough. Countertop units are perfect for smaller operations or those that don't do a lot of recipe work, while floor mixers can handle the heavy loads of a busier kitchen. Spiral mixers, with their wide bowls and strong motors, are great for commissaries, bakeries and large pizzerias, though servers of those Italian pies can also employ a specialty Hobart pizza mixer.
For more help in this category of Hobart restaurant equipment, check out our buying guide for Hobart commercial mixers.
Back to "Jump to" menu
Perfect for: Providing consistent portions, measuring for recipes, delis, and fresh produce markets
Why Hobart restaurant equipment?: From color touch screens to labelers that can give your customers nutrition information and recipes, there's a reason Hobart's scales are the best-selling ones on the market.
Hobart got into the scale business through its acquisition of the Dayton Scale Company in the mid-1930s. Since then it has pushed the leading edge of technology from countertop units to floor models to hanging scales.
Hobart HLX Service Scale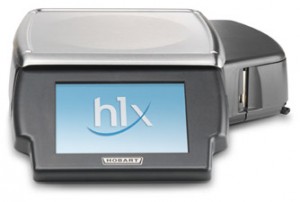 These compact countertop units come with more technological and computing abilities than the first computers. A 10.4-inch, full-color touch screen display makes using them a breeze for the operator, who can be taught basic operation and important product information via systems available on this Hobart restaurant equipment. Meanwhile, a 7-inch color display keeps the customer informed, too. These scales also help increase your profitability, and not just by offering exacting measurements. They also offer programs, in a Windows XP operating system, that allow you to label products with sell-by dates and even a tracking system that keeps operators posted on shelf life for every food in your selection. Additionally, they offer a precise label printer, which can produce everything from frequent-shopper price comparisons to intricate graphics with precision.
Hobart QuantumMax and QuantumM-1 scales

These Hobart restaurant equipment models are North America's leading service scale, especially popular with regional and national grocery chains. They're great on the deli counter and equally adept in the kitchen, where they can help with portion consistency.
That's because use is easy and intuitive, with an ATM-style console and a screen that displays all PLU data, from unit price to weight to sell-by date. All of that information can be produced on a detailed label that can also include nutritional information, ingredient data, cooking instructions, cross-merchandising promotions, or anything else you might want to show your customers.
Finally, QuantumMax scales and QuantumM-1 scales help improve your productivity with a supervisor capability, that allows you to audit all totals for the period. In addition to getting production totals, you can also program the unit to display information like how ad items are selling and if new products are moving.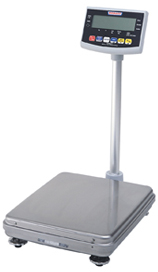 Hobart commercial bench scales
These floor units have a wide range of uses, though all of them are aimed at making your operation more productive. They're useful from the time products first come in the door, when they can be used to ensure you're getting exactly what you're supposed to be shipped. Once food is in the door, a Hobart bench scale can be used for large jobs like measuring loads of dough produced by a Hobart spiral mixer or portion packaging. These Hobart restaurant equipment units can run off an internal battery or with power supplied by an included AC/DC adapter.
Hobart commercial hanging scales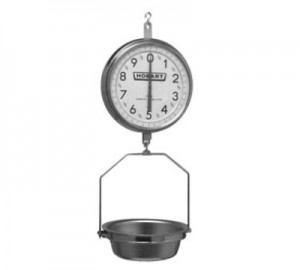 KaTom is proud to offer the PR30 series of Hobart commercial hanging scale, those ubiquitous, dial-faced measurement tools that spend their time hanging out in places like produce markets. With a pair of automatic dampeners to reduce indicator oscillations, this Hobart restaurant equipment can provide readings instantaneously on either side of the two-faced dial. Meanwhile, a temperature compensating weighing mechanism ensures accuracy, no matter what the weather is like. Finally, Hobart commercial hanging scales are also easy to clean from top to bottom, making it a breeze to protect the health of your customers.
Back to "Jump to" menu
Perfect for: Any kind of commercial kitchen, whether you're serving pancakes, burgers, or any of a countless number of other cooked foods.
Why Hobart restaurant equipment?: Griddle units that can respond quickly to handle the meal-time rush, even if you're dumping food straight from the freezer on them.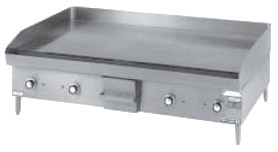 The Hobart restaurant equipment CG Series of countertop electric griddles ½-inch-thick polished steel cooking surfaces capable of fast preheating and recovery, keeping heat distribution uniform, even at peak volumes. Units range from 24- to 72-inches wide, all with 24-inch deep griddles and all bounded by 3-inch stainless steel back and side splashes. For every 12 inches of griddle width, you get two solid-sheathed heating elements, one snap-action thermostat and a cycling light. The thermostats allow for adjustment of the cooking temperature from 200 to 450 degrees. To help keep your cooking healthy and your griddle clean, Hobart's units also come with wide front grease troughs and a large-capacity grease drawer.
Shop Hobart griddles with KaTom
Back to "Jump to" menu
Perfect for:Buffets, catering businesses, and any eatery serving large volumes of salad
Why Hobart restaurant equipment?:Gentle spinning speed removes water without damage to delicate salad greens, helping you extend shelf life and reduce salad dressing costs.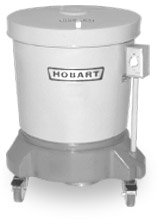 With more people looking to live a healthy lifestyle, salads are becoming more popular not just as a first course, but also as an entree. With surveys indicating more than 80 percent of Americans eat at least one salad a week, having a salad dryer from the Hobart restaurant equipment lines on hand could help you maximize your profit from this growing profit producer.
Hobart's commercial salad dryers are available with either polyethylene or stainless steel outer tubs and lids, though both options have a one-piece, molded base of steel-reinforced polyethylene and a built-in stainless steel motor splash guard. The 405 rpm motor gently removes excess water without damaging or bruising the greens within a matter of minutes, with the duration of the cycle controlled by an easy-to-use timer on the top of the unit. The easy-load, handled, polyethylene spin basket can hold up to 16 heads, or one case, of lettuce at a time.
So, what's the advantage of clearing excess water off your clean leafy greens? Well, it can add as much as three days to the shelf life of the product and can reduce dressing costs by as much as 15 percent simply by reducing dilution from leftover water.
Shop Hobart salad dryers with KaTom
Back to "Jump to" menu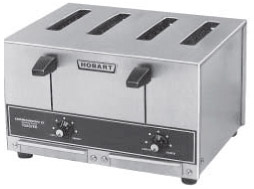 Perfect for:Coffee shops, bagel places, hotel breakfast rooms, sandwich shops
Why Hobart restaurant equipment?:Innovations that mean even heating for golden brown toast every time.
From start to finish, Hobart makes this simplest of kitchen appliances even easier to use. This Hobart restaurant equipment brings solid state temperature sensors and probes that ensure the element gets to the right heating level, with a control knob that achieves the perfect cooking. All these units have solid stainless steel exteriors with seamless, single-piece fronts and tops that make them easy to clean. They also come in sizes that can handle from two to 16 slices at a time, meaning you can find the perfect unit for your needs.
Shop Hobart toasters with KaTom
Back to "Jump to" menu
Perfect for:Any foodservice operation that needs to save time by preparing foods in advance or needs a safe way to preserve leftovers.
Why Hobart restaurant equipment?:A compact countertop design with available digital or analog controls and the ability to do as many as three cycles per minute.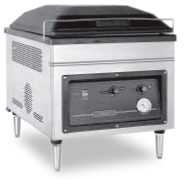 The H-Series of vacuum packaging Hobart restaurant equipment is ideal for small- to medium-sized processors, restaurants, and supermarkets. Hobart offers a unique lid hinging system that creates a larger opening angle, so it's easier to load and take sealed items out, while a quick-change, 16-inch seal bar allows for effortless operation. The heavy-duty, 1.25-horsepower BUSCH 021 vacuum pump can deliver years of service and can perform up to three cycles per minute. All of it is controlled by easy-to-use digital read-out or analog controls on the front of the unit.
Shop Hobart vacuum packaging machines with KaTom
Back to "Jump to" menu
Perfect for: Customizing your Hobart restaurant equipment to your exact needs
As we've noted in several parts of this guide, Hobart restaurant equipment offers a host of options and accessories that help make each unit the right one for you. From fine slicer plates for use in continuous-feed mixers to pre-packed printer paper for scales, KaTom has what you need to customize your Hobart unit.
Shop Hobart accessories with KaTom
Got more questions about any of this great Hobart restaurant equipment? Just give one of our friendly customer service representatives a call at 800.541.8683 or e-mail us at info@katom.com.