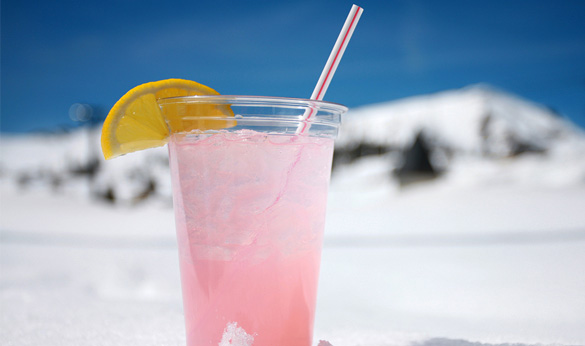 Gradient Pink Lemonade Cake, Just In Time For Summer!
This pink lemonade cake is perfect for summer and we've designed it so that as you cut into it, each layer is a darker shade of pink. However, if you do not wish to make a gradient color simply omit the food coloring.
Pink Lemonade Cake
Ingredients:
1 cup of butter, at room temperature
2 cups of sugar
3 cups of sifted self-rising flour
4 eggs, separated
1 cup milk
2 packs pink lemonade individual drink mix
1 tsp. vanilla extract
The zest from 1 lemon
Pink Lemonade Frosting (see below)
Red food coloring
Directions:
Preheat your oven to 350 degrees F. Grease and flour 3 round 9-inch cake pans. Using your stand mixer or hand mixer, cream the butter until fluffy. Add the sugar and lemonade mix to the butter, and cream for about 6 more minutes. Add the egg yolks and beat well. Separate the cake batter into 3 portions and add food coloring to each cake batter portion until you have the desired colors. Be sure each portion is darker than the previous. In a separate bowl, mix the egg whites until they are fluffy. Fold part of the egg whites into each batter portion until mixed in. Pour your batter into the greased and floured baking pans. Drop each baking pan on the counter to remove air bubbles. Bake for 25 minutes or until done. Allow the cake layers to cool completely
Pink Lemonade Frosting
Ingredients:
1-1/2 cups of butter, at room temperature
6 cups of powdered sugar
9 tbsp. thawed pink lemonade concentrate
1-1/2 tsp. vanilla
Red food coloring
Directions:
Beat butter until fluffy. Add the powdered sugar, lemonade concentrate, and vanilla. Beat until smooth, adding extra concentrate if needed. Divide the frosting into 4 portions. Use red food coloring to dye the frosting in gradient colors. Fill several piping bags with frosting. Be sure to use a plain tip. Layer the cake, making sure to use darkest to lightest icing in between the layers. Pipe a round "dot" of frosting onto the bottom of the cake with your darkest color. Repeat this step until you have a vertical line of dots going from darkest to lightest up the cake. Use a small spatula to "squash" and drag each dot. Add another row of dots on top of the "tail" of each squished dot. Repeat these icing steps until the cake is covered, doing the same (in a round pattern) for the top. As a garnish, add sliced lemons to the top of this cake.