Innovative design allows Frymaster's oil-conserving fryers line to boost your bottom line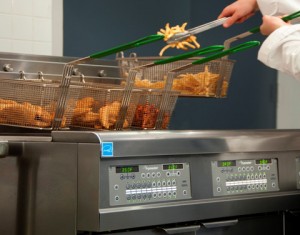 Frymaster has billed its newest line of commercial fryers by one of its most impressive features, dubbing them oil-conserving fryers or OCF30. While the abilities that earned them that moniker are amazing, they are packed with innovations that will help your commercial kitchen save money and make your frying more efficient from start to finish. These commercial fryers enable you to produce 66 percent more food per gallon of oil, maintain cleaner oil for longer, achieve fry pot filling with 40 percent less oil, and conserve energy. They even keep an eye on oil levels for you and can give refills as needed.
Frymaster oil-conserving fryers reduce your commercial kitchen's oil needs, but you probably guessed
We'll begin with the most obvious feature to brag on: The oil-conserving abilities of these Frymaster units. They start when you find that 30 pounds of oil fills up the pot, instead of the 50 used in many standard units. That's a 40 percent oil conservation right out of the gate, though you're still getting the same high-yield output.
As proof, here are some examples of production from Frymaster's oil-conserving fryers:



That smaller amount of oil also helps you keep the oil fresher longer. There will be the same amount of oil loss in oil-conserving fryers as there is in a standard 50-pound unit, though that reduction in the frypot will be a larger percentage of the oil in a Frymaster OCF30 commercial fryer. That means replacing that loss is putting a greater ratio of fresh oil into the whole, so it stays fresher longer.
A commercial fryer that reduces energy and money waste
Once you get cooking, the savings continue. Truth is, when you cook in oil, you're actually only cooking in part of the oil. The rest is being unnecessarily heated, meaning energy is being wasted. These oil-conserving fryers eliminate that problem with their smaller frypots. That means cleaner oil for longer because the ratio of fresh oil being replaced after each cook cycle is greater. That extends the life of the oil by as much as 92 percent and protects the quality of your commercial kitchen's food product.

Obviously there are opportunities for energy savings (read: money savings) from heating less oil. Frymaster's oil-conserving fryers can reduce your energy needs for frying by up to 10 percent. Those reductions continue throughout operation, meaning you're putting money back into your pocket all day long. Beyond that, these oil conserving fryers have a cool mode, which holds the oil at a level between room and cooking temperatures during long dormant periods. That means you're not wasting energy and money on keeping your commercial fryer hot when it's not on use, but you're also not having to bring it back up to appropriate temperatures when you're ready to drop in another basket of food.
Get (innovative) control of your commercial kitchen's fryer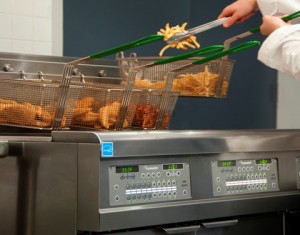 Frymaster's Oil Conserving Fryers 30 series is equipped with the Smart4U 3000 controllers, which walk the operator through every facet of operation and maintenance. It offers options for segmented cooking and the possibility of adding a second language, along with 20 programmable product buttons. The system also monitors oil level and quality, keeping you aware of its status through regular reports, as well as keeping cook counts and evaluating fryer performance.
Cut staff time with Frymaster's available Oil Attendant technology for the OCF30 series
Perhaps one of the greatest innovations in these OCF30 oil-conserving fryers is found at the bottom of the unit. That's where the available Oil Attendant technology does its work, automatically sensing the oil level in the frypot and refreshing it as needed from a supply stored in the cabinet itself. Not only does that ensure exactly the right amount of oil is kept in the commercial fryer, it also reduces the staff time needed to maintain that level and further helps maintain cleaner oil.
Frymaster's Oil Conserving Fryer 30 Series models are available from KaTom in both gas and electric models, all with a battery of three frypots that make them a great fit for any commercial kitchen.
For more information about Frymaster's oil-conserving fryers, please call one of KaTom's helpful customer service representatives at 800.541.8683 or e-mail us at info@katom.com. You can also view a short video about the OCF30 series below and on the KaTom YouTube channel.