Frying High With Frymaster Training!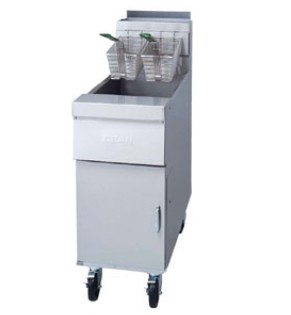 Fryers are used in almost every restaurant, from fine dining to quick serve burger joints. The importance of a proper working fryer cannot be stressed enough. Thankfully, KaTom received Frymaster / Dean training today and we can say without a doubt that we learned a lot!
For example, did you know that fryers have 3 cooking zones (with an exception being 2 in flat bottom fryers)? There is a hot zone for cooking, a zone for heating the cooking zone, and finally a zone for the debris. Tube fryers (Dean) hold more debris in the bottom zone and therefore are ideal for restaurants that serve fresh breaded foods with high amounts of debris. Open pot fryers (Frymaster) hold less debris wise but are a lot easier to clean and offer more cooking space. Flat bottom fryers are designed to cook foods like funnel cakes or chips and are therefore a great option for concession stands. What this taught us is that what your restaurant is frying and the amount fried on a regular basis is directly relative to the type of fryer that is best for your establishment.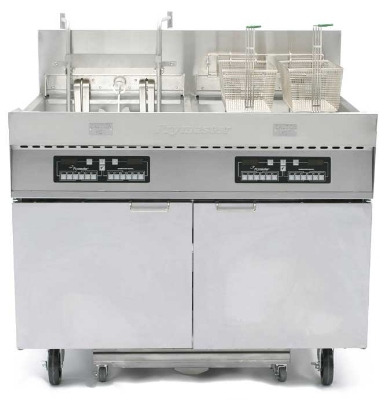 We also learned about the cost of using a fryer also depends on the area you are located. While electric fryers are a great energy saving option for the South Eastern states they are more expensive than a gas fryer when used in North Western areas. This is due to higher electricity costs. For this reason, each state can offer a different rebate for energy saving fryer models. To find a rebate for Energy Star qualified commercial food service equipment, like Frymaster fryers, feel free to visit the Energy Star website for an easy to use Incentive Finder tool: http://www.energystar.gov/index.cfm?fuseaction=CFSrebate.CFSrebate_locator
Other than saving money on your utility bill, choosing the right fryer can actually save you a boat load of money on oil costs. For example, a tube fryer keeps more oil down in the debris zone while an open pot fryer does not. When you use an open pot fryer, like the H-55 model restaurant fryer, you can save up to 43% on your oil costs. If you add the amount of money saved on oil and energy when using an H-55 model fryer, your unit is literally paid for in 3 years! Seeing that the H-55 carries a parts and labor warranty of 7 years, we think that's quite a steal of a deal.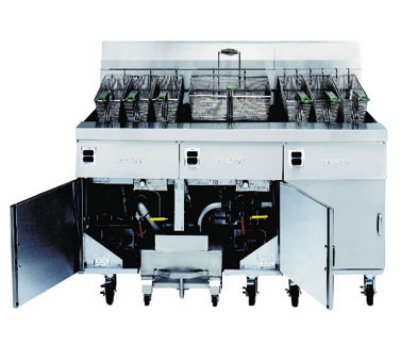 The KaTom crew also learned about proper oil filtering and its importance. Not only does proper filtering create a better tasting product, it increases the life of your oil. Replacing your oil less often means, you guessed it, lower oil costs! While economy models will not feature built in filtering systems, we suggest everyone invest in a model that does. Not only will you save more on oil costs, you'll also save on man power when compared to a portable filtration option.
Another little known fact the KaTom crew learned about was that if you're currently working with a smaller fryer model and business has grown sometimes the last thing you need is a larger model. A larger model fryer, although great for dishes like fried chicken, use less energy per lb. of oil and therefore feature slower recovery times. It would be a better choice to utilize another fryer of the same size, as many quick serve restaurants already do.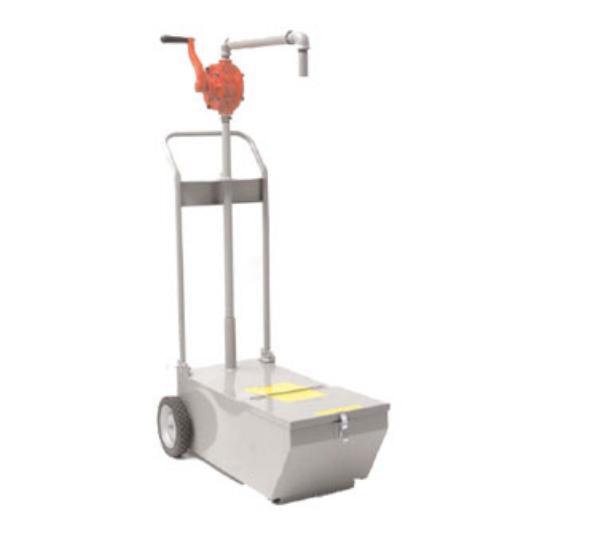 Overall, this training session was very helpful and certainly helped to further educate the KaTom crew about fryers and the efficiency of each type. We learned that, like most equipment purchases, buying the more expensive models will actually save your business money on service calls and oil cost in the long run.
Thanks again to our teachers Dennis Elliot and Mike Phillips for an educational training!
Do you have any questions about Frymaster or Dean fryers (or just fryers in general)? Let us know by commenting on the blog, sending us a tweet, hitting up our Facebook wall, our Google+ account, or our Youtube channel!!! Feel free to pin away with KaTom on Pinterest too!