Cornish Hens With A Cherry Port Reduction: A Video Recipe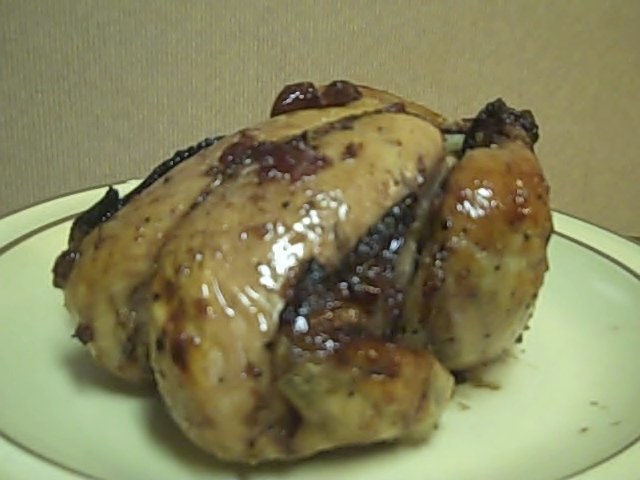 Valentine's Day is coming up quick. You may have seen our KaTom Valentine's Day page, complete with several dinner plans and an array of terrific gift ideas. I have to agree with the concept that cooking a special dinner for your loved one can easily beat out a bought gift anytime...and so can my fiancé! I made the following recipe for Cornish hens as a romantic entrée for our dinner and he ate the whole thing. He said, and I quote, "Having a whole little chicken like this is making me feel pampered. Indeed, you are (and don't you forget about it when the 14th comes around, buddy)!
The real secret to this recipe is the cherry-port sauce you make to baste it in, but then again, any meal with a little port in it tends to be great! Enjoy these hens with a wild rice pilaf, a side salad, or even grilled peppers and squash.
Cornish Hens with Cherry-Port Sauce
What You'll Need:
½ cup port wine
½ cup cherry preserves
1 tbsp fresh grated ginger
¾ teaspoon Kosher salt
1 tablespoon Balsamic vinegar
2 Cornish hens, rinsed and patted dry with skin removed
1/2 teaspoon fresh ground pepper
Instructions
Add port, ginger, Balsamic vinegar, and ¼ teaspoon Kosher salt to a sauce pan.
Stir and bring to a boil
Lower heat and cook for 9 minutes or until slightly thicker, stirring frequently
Preheat oven to 400 degrees F
Rub ¼ teaspoon salt and pepper on EACH hen
Add an oiled wire rack onto a baking sheet and place the hens on the rack
Cook the hens in the oven for 15 minutes
Brush hens down with some of the sauce
Cook ten more minutes and then baste again
Repeat step 9 three times for a total of 40 minutes
Enjoy!
Your Valentine is sure to be impressed by such a tasty, eye pleasing dinner. Seriously: both ladies and gentlemen enjoy a gift that has obviously had some thought and time put into it. Skip the boxed chocolates or cologne and give them something they can really sink their teeth into!
Have a very lovely Valentine's Day and an incredible weekend,
-
Heather ;)
Recipe courtesy of myrecipes.com