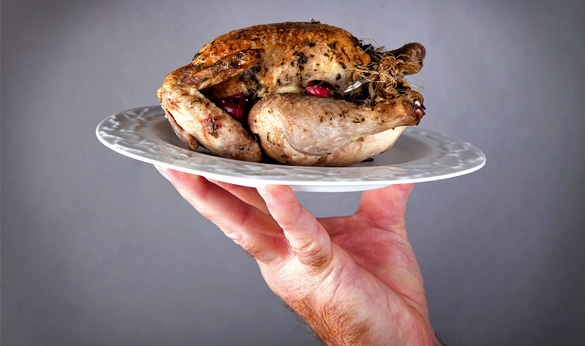 Cornish Hens with a Cherry Port Reduction
This cornish hen recipe is light and sweet with a cherry port reduction. It is perfect for a dinner for 2 and only requires about an hour to bake.
Ingredients:
1/2 cup port wine
1/2 cup cherry preserves
1 tbsp. fresh grated ginger
3/4 tsp. Kosher salt
1/2 tsp. fresh ground pepper
1 tbsp. Balsamic vinegar
2 Cornish hens, rinsed and patted dry with skin removed
Directions:
Add port, ginger, Balsamic vinegar, and 1/4 teaspoon Kosher salt to a sauce pan. Stir and bring to a boil. Lower heat and simmer for 9 minutes or until it begins to thicken, stirring frequently.
Preheat oven to 400 degrees F. Rub 1/4 teaspoon salt and pepper on each hen. On an oiled wire rack placed on top of a baking sheet, cook the hens in the oven for 15 minutes. Brush hens with some of the sauce. Cook for an additional 10 minutes and then baste again. Repeat 3 more times for a total of 40 minutes