Conveyor Pizza Oven VS Deck Pizza Oven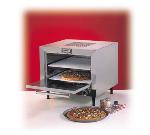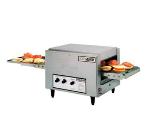 When shopping for any sort of restaurant equipment, especially a new pizza oven, the resulting product should coincide with the expectations. Restaurant equipment can be tricky to purchase as there are many questions that need answered before a purchase is made. Once you've decided on a pizza menu, you will need a new pizza oven. Of course a hearth oven is ideal for pizza, but not everyone can get an oven built in their restaurant. Besides, there are many options available to bake pizzas and be economically efficient. When shopping for a pizza oven, there are many different choices and varieties. For example, a conveyor oven or a deck oven can both be used to perfectly cook pizza, but depending on the restaurant and menu items, one may be preferred over the other. Read KaTom's guide to determine what restaurant equipment for pizza takes the cake. I mean pie.
The Crispiest Crust
A deck oven contains a stone that simulates the effect of a hearth oven. For this reason, the crust is crispier, and the deck oven wins in this category. A deck oven is also great for baked breads, offering a soft interior, with a crusty exterior.
The Fastest Cooking times
This category in restaurant equipment goes to the . Not only will it typically cook faster, but the fact that it's a convection oven means that it is heated by air. The air is forced over and under the product, stripping away moisture. It may dry out the pizza a little more than the deck oven, but slight recipe changes can avoid this effect, and make your pizza cook 20%-25% faster than a traditional oven.
The Most Even Baking
The winner in this category has to go to both. Both a conveyor and do extraordinary jobs of baking evenly.
The Highest Volume of Product
The wins for two reasons. It's faster and it allows more time to focus on other items because the pizza is loaded in and cooked unattended.
Easiest in Operation
Consistency, consistency, consistency. The easiest to operate is definitely the . It cooks each item the same amount of time with the same temperature, and requires little to no tending after the item has been loaded. It is easier to train someone to use a conveyor oven as well, allowing for less expensive labor and training costs.
*Though it seems the conveyor oven wins in most categories, keep in mind that a , while requiring more skill to operate, will produce results closest to the heart oven due to the stone inside it.
For additional information on pizza ovens contact one of our customer service representatives.