Contest Time: It's A Thrill To Grill With KaTom!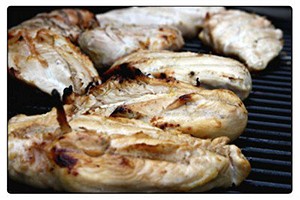 Mmmm! You know it's summertime when the scent of charcoal and grilling goodies fill the air. Grilling and togetherness seem to go hand in hand, like peas and carrots. I don't know about you but when my family gets together...well, it can get pretty hilarious!
For example, one year my fiance decided he wanted to try and grill bacon along with dinner...without telling anyone else. Five minutes later the grill was engulfed with flames and everyone was bewildered at what could have caused it. After putting out the whirling tower of flames that was on the porch, my fiance was able to salvage 1 piece of pitiful black bacon from the fire. He even tried to eat it! Needless to say, once everything was extinguished we all had a pretty good laugh.
We want to know your best grilling stories! Post your best (or worst) real life grilling story on one of the following KaTom social sites and you'll be entered to win a Grill Basket for grilling delicious veggies, fish, and more! There are 4 ways to win:

Pinterest
– Follow
KaTom RS on Pinterest
and Re-pin our "It's a Thrill To Grill" pin with your story

Twitter
– Follow the
KaTomRS twitter feed
and post your story (or a link to your story) with the hash tag #thrilltogrill @KatomRS

Facebook
– Like the
KaTom Facebook page
and post your story on the KaTom Facebook Wall

Google+
-
Add KaTom Restaurant Supply to your Google+ circles
& share your story with us
The contest starts June 18th 2012 and ends July 4th 2012. A winner will be chosen and contacted for further shipping information. Open to residents of the U.S only.