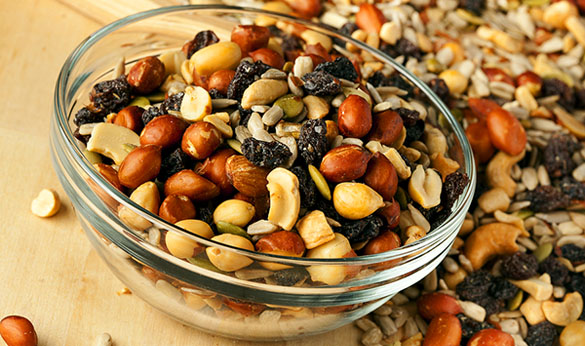 Celebrate National Trail Mix Day
August 31st is National Trail Mix Day and here is a quick, simple, paleo recipe for trail mix that requires only 10 ingredients. Cacao nibs are low in carbs and made of 100% cacao and by making it yourself, you can control ratios to best suit your diet. You can easily adapt and modify this recipe for a non-paleo treat by incorporating rolled oats and substituting the cacao nibs for semi-sweet chocolate chips or M&M's.
Paleo Trail Mix
Adapted from Guilty Kitchen
Makes: 11 cups
Ingredients:
1 cup raw organic cashews
1 cup raw organic almonds
1 cup raw organic walnut pieces or halves
1 cup raw organic pecans
1/2 cup raw organic pumpkin seeds
1/4 cup raw organic cacao nibs
1/2 cup dried blueberries
1/2 cup organic unsulphured cherries
1/4 cup organic raisins
3/4 cup organic, unsweetened coconut chips (aka ribbons)
Directions:
Pre-heat oven to 375 degrees F. Pour the coconut chips onto a baking sheet and cook for about 3 minutes. Rate the pan if needed and bake for another 2 minutes. Chips are done when golden brown. Remove from oven and cool.
Mix remaing ingredients together in a large mixing bowl and then add chips once completely cool.
Store in an airtight container with a lid.