Attractive New Look, Same Low Prices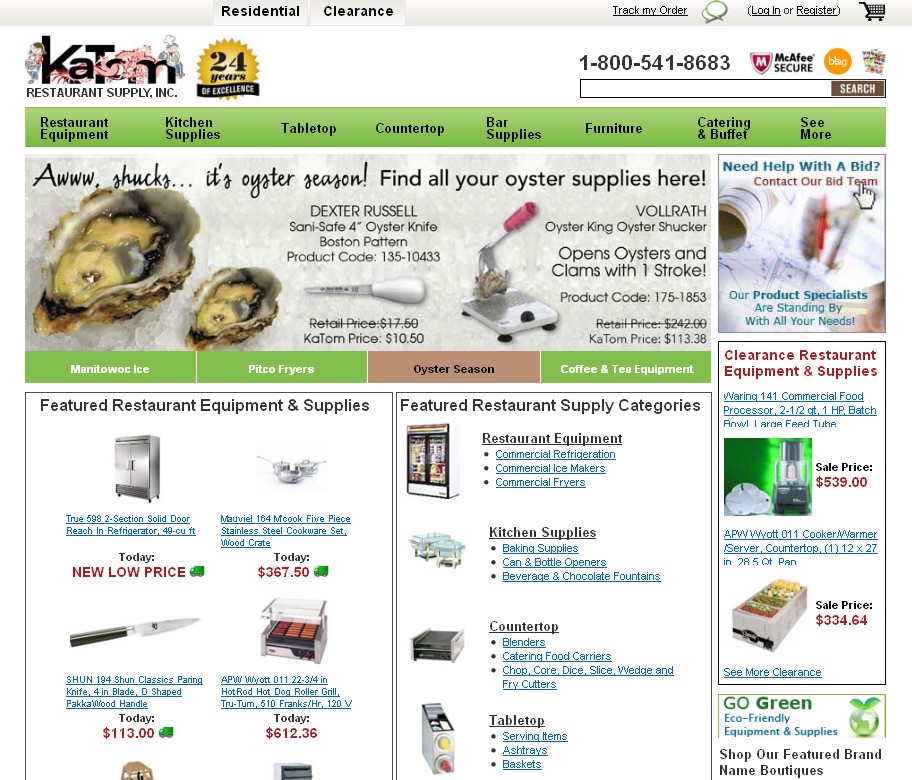 As you may have noticed, the KaTom website has recently undergone a complete make-over. The new website creates an attractive, inviting feel, while also being more user-friendly. Our new website design was put together with you, the customer, in mind. We hope to provide a site that is easy to navigate, yet informative and helpful along the way. There are several new features we have added, as well as improving on some of the pre-existing features. Even though our design has changed, our commitment to customer service has not. We still provide you with service from a live, knowledgeable customer service representative, not a computer or voicemail system. We are still committed to providing you with the lowest prices available, which we achieve through our years of premier high volume buying.
Live Chat
One of the coolest, and perhaps most useful, additions to our new site is the "Live Chat" feature. This unique features allows you to talk with an actual KaTom customer service representative, who can assist you with any number of issues, from guiding you to a specific item you are looking for, to helping you place an order. Live Chat is open from 8am-8pm, Monday-Friday, and is an excellent way to find any assistance you need.  This feature can be activated from any page of our website by clicking on the green Live Chat button located at the top-right of the page.
Restructured Categories
In an effort to make the site more user-friendly, we have completed a comprehensive
category restructuring
. This new structure places items in a manner that allows them to be easily found. Once you have found the items you are looking for, you can place them in the shopping cart, which can now be saved and completed later. The ability to save items in your shopping cart is also new to the redesigned site. This feature takes the worry out of shopping by allowing you to keep items in the shopping cart until you are absolutely ready to make the purchase. You can even remove items from a saved cart if you decide that the item is not exactly what you are looking for.
KaTom Restaurant Supply Weblog
If you are reading this article, you have found yet another new and exciting feature on our site: the
blog
. The blog section is designed to hold a variety of articles, including buyers guides, information in the media, articles of interest, and restaurant tips. A blog is essentially a place where an individual shares commentary with readers about a particular subject. In this case, we hope to provide you with information on any and all things restaurant related, from reviews and recipes to equipment and money saving tips.
Customer Reviews
Our new site offers customers the chance to
review
our products. At KaTom, we hope to provide high-quality products as well as excellent customer service. After your purchase, we encourage you to give feedback about both the item and / or site. Please feel free to leave both positive comments as well as those telling us how we could improve your experience. Customer input is valuable to ensuring that we offer the best customer service and products available.
Tabs
As you navigate through the site, you should notice the use of tabs to allow you to easily maneuver from table to list view. Because we realize that individual human beings process information in different ways, these tabs allow you to view the products in the way that is most appealing and easy to understand for you. An additional tab is also present on a number of the items, which is another attempt to improve your shopping experience. This additional tab, labeled either "
Buyer's Info
" or "
Buyer's Information
", provides you with exactly that - information we think a buyer might find helpful or pertinent in their search for the right restaurant equipment.  This tab explains the essentials of the product as well as helping to guide you through your search for the perfect unit for your business or organization.
New Search
As an upgrade to the existing search, we are in process of creating a new,
highly customizable search
that allows you, the customer, to have complete control over what is pulled up when searching. This new search is under construction and should be up and running in the near future. In the mean time, we encourage you to find products using our current search method, which will quickly locate all of the items relevant to your search term.We encourage you to comment on this blog, telling us about the blog area itself, the new website and its features, or any area that you think is working well or needs improvement. All feedback is welcome and appreciated. Hope to hear from you soon!!