Angelic Eggs
6 eggs, hard boiled, sliced lengthwise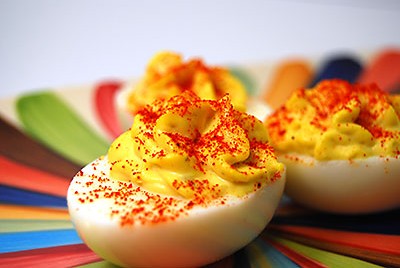 2 tablespoon mayonnaise, low fat or regular
1/8 tsp. dry mustard
salt to taste
Directions:
Remove the egg yolks and place in container. Place the rest of the ingredients in Vita-Mix container in the order listed. Secure 2-part lid. Select VARIABLE, speed #1. Turn on machine and quickly increase the speed to #4. Run machine for 10 seconds or until mixed.
For Deviled Eggs:
Follow directions show above for Angelic Eggs and simply add 1 tablespoon horseradish, or chopped ham for a devilishly different taste.
Yield: 6 eggs
*Recipe provided by Vita-Mix.