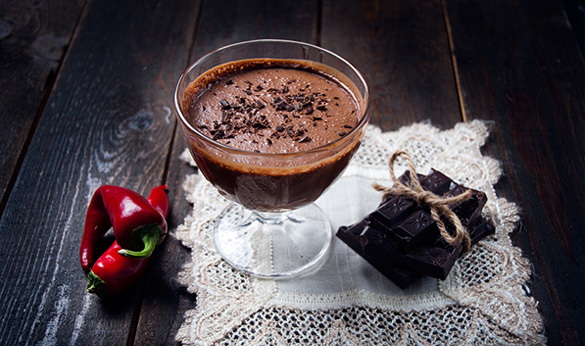 Quick and Easy Chocolate Mousse
Chocolate mousse is light, creamy, and sweet. This chocolate mousse recipe requires only 6 ingredients and will be ready to eat in just over an hour. The dark chocolate in this recipe adds just the right amount bitterness to make it perfect for an after-dinner dessert. This mousse can be easily garnished with whipped cream, fresh mint, berries, or chocolate shavings.
Dark Chocolate Mousse
Adapted from Food Network
Serves: 4-6
Ingredients:
5-1/4 oz. bittersweet chocolate, coarsely chopped
14-oz. cold heavy cream
3 large egg whites
1/8 cup sugar
Directions:
With a double boiler at a lower simmer, add chocolate and stir until chocolate has melted. Turn off heat and let stand.
In a mixing bowl, beat the cream over ice until soft peaks start to form. Set aside and hold at room temperature.
Using a mixer, whip egg whites into soft peaks. Gradually add sugar and continue whipping until firm.
Fold chocolate into egg whites all at once. When the whites are almost completely incorporated, fold in the whipped cream.
Cover and refrigerate about an hour or until set. Serve and garnish as desired.