Afghan Village Cuisine: Stocking Up For the Soldiers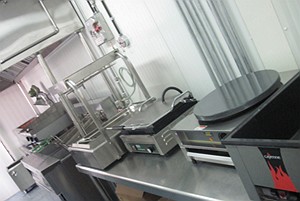 If you have ever worked with our helpful Bids department, you know that they're on the ball! Recently, KaTom's Bid Director, Dawn, had the privilege of working with the The United Afghan Group to fully stock one of the many shops on the Afghanistan Military Base, Afghan Village Cuisine. Dawn says her communication with the United Afghan Group was nothing less than enjoyable; after all, the thought of supplying Afghan Village Cuisine with top quality equipment for preparing soldier's meals was an exciting prospect!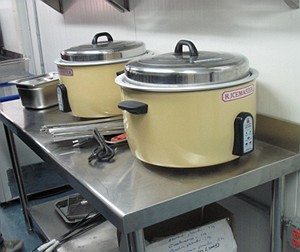 After our dealings with the Afghanistan Military Base, we're sure the occupants are going to love what is in store for them at Afghan Village Cuisine. The soldiers will now be able to get a great start to their day with strong espresso coffee from a Cecilware Espresso Machine and several Cecilware VGA bean grinders. Once they have woken up with a cup of strong Joe, these fine military men can enjoy a crepe for breakfast fresh off of one of Afghan Village Cuisine's Equipex Crepe Machines.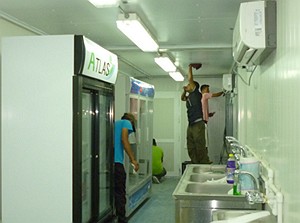 Thanks to the United Afghan Group, soldiers will also be able to efficiently cool down with Afghan Village Cuisine's SaniServ soft serve/shake combo machine, a slushy from their new Cecilware Triple Slush Machine, or a beverage with chilly ice from their Ice-O-Matic ice maker! Considering temperatures can get in the 100's in Kandahar, we're sure they'll appreciate it.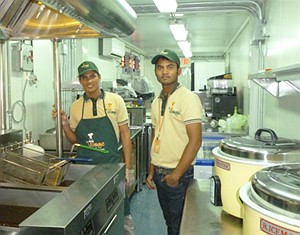 Afghan Village Cuisine is also sure to offer quite the lunch and dinner selection since they now have Vollrath food warmers, Waring Panini Grills, an Alto Shaam Oven Steamer Combo, several heavy duty Frymaster Fryers, Town Rice Cookers, an Univex Slicer, and a helpful True Sandwich Prep Unit.
The United Afghan Group has even sent us some great photos of Afghan Village Cuisine being set up for business! We'd like to thank them once again for choosing KaTom Restaurant Supply and for working so hard to keep the soldiers happy while they're away from home. Afghan Village Cuisine is looking great...keep up the awesome work!