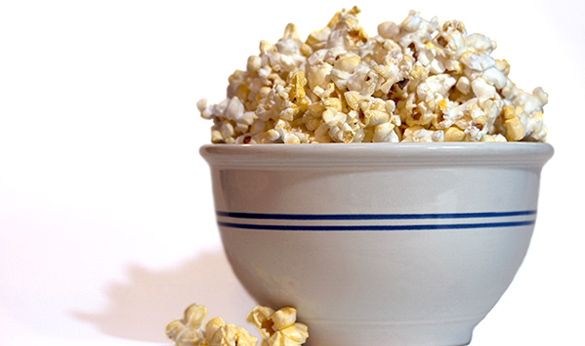 Let Waring Pro do the Work and Enjoy Delicious, Gourmet Popcorn in Just Minutes
Whether you are avoiding the steamy heat of summer or dodging the chilly nights of winter, there is hardly a better cure than a classic movie night. We here at KaTom agree, but prefer to add a foodie twist for flavor. Some folks are satisfied with buttery popcorn and a soda and others may opt for pizza and a flick, but we have thought up a treat you will certainly want to try!
These days, there is a renewed emphasis on quality ingredients and rich flavor combinations. In honor of these trends, we propose gourmet popcorn for your next movie night. With the use of a Waring popcorn maker you will be on your way to gourmet excellence in minutes.
So Which Waring Popcorn Maker is For You?
Waring Pro has two unique styles of popcorn makers for the home. Let's take a look at some of the features of the different styles and models.
Waring Pro Nostalgic Popcorn Poppers: WPM25, WPM30, and WPM40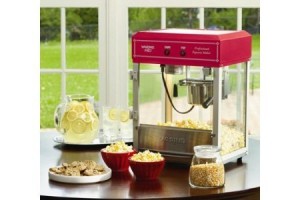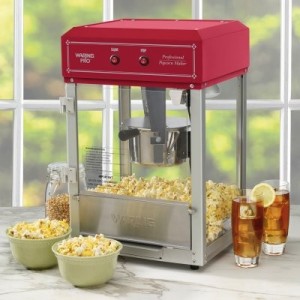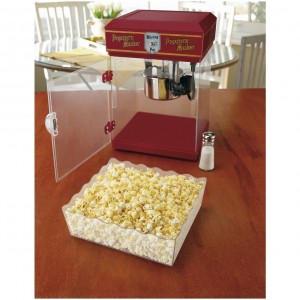 These popcorn makers are the kinds that drum up memories of the yummy smell of a carnival midway, baseball game, or movie theater. And these nostalgic popcorn makers are complete with that traditional red finish and convenient glass doors to watch the action.
Waring has three different models, the WPM25, WPM30, and the WPM40 all of which come with a five-year limited motor warranty to put you at ease in the case of a mishap. The poppers can produce between eight and 12 cups of popcorn in as little as two and a half minutes, depending on the model.
If you really want to dress your popper up, you can even display it on a trolley to complete the classic look. This can be particularly helpful if you need your popcorn maker to be a mobile unit at a party or for an event.
Waring Pro Built-In Bowl Popper: WPM10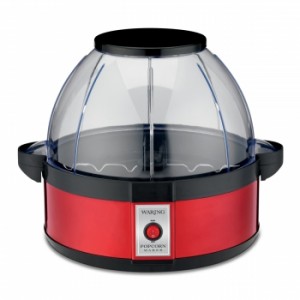 If it's a quick, convenient bowl of popcorn for family movie night you need, this is the way to go. The built-in bowl fastens to the top of the halogen-heated popper, allowing you to pop and serve in the same container. The bowl is also vented to allow heat to escape, keeping your popcorn free from sogginess.
The base of the popcorn machine has a built-in stirrer system, reducing the amount of oil needed, which in turn lowers the minimal calorie count even further. The best part of this machine is it can handle multiple batches to produce up to 20 cups of popcorn - think slumber party or snacks for the big game.
And speaking of snacks, let's get back to our foodie-inspired movie night.
Gourmet Popcorn Recipe list for the Foodie Movie Night
Whether it's savory or sweet, salty or sour, we have you covered. Once you have your popcorn ready from your Waring Pro popcorn machine, the possibilities are essentially endless.
Savory Popcorn Munch
Ingredients:
3 cups freshly popped popcorn
1/4 cup grated Parmesan
1/4 tablespoon cracked black pepper
1/4 tablespoon sea salt
1/4 tablespoon garlic powder
Toss all ingredients in a large bowl and serve. Feel free to mix in other seasoning or try different cheeses. This recipe is simply a base for endless experimentation.
Sweet Popcorn Crunch
Ingredients:
6 ounces popped popcorn
1 tablespoon butter
2 cups unsalted mini pretzels or pretzel sticks broken in half
1 cup nuts of choice
3/4 cup molasses
1/4 cup brown sugar
1/8 teaspoon salt
1 teaspoon vanilla extract
Begin by greasing two large baking sheets with butter. Combine popcorn, pretzels, and nuts in large silver bowl. Bring molasses, sugar, butter, and salt to a rolling boil. Boil for three minutes while stirring often. Remove mixture from heat, add vanilla, and then combine with popcorn mix. Toss popcorn in molasses mix and immediately spoon onto prepared baking sheets. Allow to cool for 10 minutes and then serve. Leftovers may be kept in an air tight container for up to two days.
Ready to Add a New Waring Pro Popcorn Maker to Your Kitchen?
For more information about Waring Pro popcorn makers, contact KaTom at 1-800-541-8683 or visit KaTom.com. Whether you are ready to buy or just want to browse your options, we will be happy to help. Have a great movie night!