Worktop & Undercounter Refrigeration
Does your restaurant desperately need more refrigeration but can't give up counterspace? Worktop refrigeration may be what your business needs! KaTom sells worktop refrigeration that works as counterspace while still maintaining cold temperatures. Another space saver for small businesses is undercounter refrigeration. These units are half the height of standard refrigeration, leaving space for other utilizations. Buy your undercounter refrigeration or worktop refrigeration from KaTom and save!
Refrigeration for a restaurant or catering business can be space consuming. Save that precious space with undercounter refrigerators and undercounter freezers from KaTom! Our stainless steel undercounter refrigerators are durable enough to withstand even the busiest of restaurants. For cooler conditions choose our undercounter freezers and rest assure that these sturdy models will easily keep your food frozen. Call our friendly customer service for a undercounter freezer right away!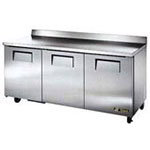 Counterspace is vital in even the smallest of kitchens as it's used to make delicious dishes and prep foods. KaTom Restaurant Supply has worktop freezers that will keep your foods frozen while also acting as a counter. Talk about efficient! No matter your capacity needs there is an worktop refrigerator or worktop freezer here for you at KaTom! Choose from our stainless steel worktop refrigerators or our worktop freezers and get the cooling space you need with the added bonus of an extra counter.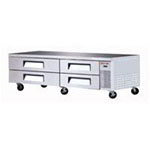 Chef Bases can come in very handy in a busy restaurant or food establishment. KaTom's chef bases are refrigerated, come in multi-drawer/section models, and are constructed in heavy duty stainless steel. KaTom also carries a large selection of commercial equipment stands that also refrigerate while holding other equipment, saving great deals of space! Shop through our selection of chef bases and commercial equipment stands for the efficient and durable refrigerated units you need!