Worktop Refrigeration
Counterspace is vital in even the smallest of kitchens as it's used to make delicious dishes and prep foods. KaTom Restaurant Supply has worktop freezers that will keep your foods frozen while also acting as a counter. Talk about efficient! No matter your capacity needs there is an worktop refrigerator or worktop freezer here for you at KaTom! Choose from our stainless steel worktop refrigerators or our worktop freezers and get the cooling space you need with the added bonus of an extra counter.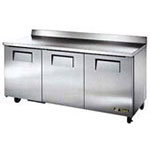 Do you need more refrigeration but can't afford a large, space taking appliance? Look no further, KaTom Restaurant Supply has the worktop refrigerator you business needs. These units double as counter space while keeping your foods save and cold. Since our worktop refrigerators are made with stainless steel you can be sure that durability comes standard. Order a worktop refrigerator today with the capacity your food establishment needs from the business you've come to trust: KaTom!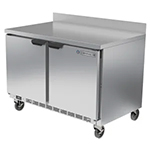 Keeping food frozen, especially during the busy lunch and dinner rushes, is very important. Not only do KaTom's worktop freezers keep your food icy cold but they also save space and provide an extra countertop to work on. You'll also be glad to know that many of our worktop freezers come in durable stainless steel and are also Energy Star certified. Order the best for your restaurant by purchasing worktop freezers from KaTom Restaurant Supply!