Wire Whip / Whisk
The whisk/whip is a tool used in food preparation & is designed to blend ingredients smoothly or incorporate air into the mixture. Whisks have many different shaped loops depending on the intended function. The most common are balloon whisks which are best suited to mixing bowls due to their shape. Some others include the French whisk, a gravy whisk, or a flat whisk, which is sometimes referred to as a Roux whisk. No matter your need, KaTom Restaurant Supply will help you find the tools.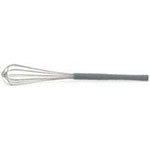 The French Whip or whisk has a more cylindrical profile with longer, narrower wire loops, thus making it better suited to deep, straight-sided pans. Widely used in Europe, it wasn't until Julia Child demonstrated their use on television that whips/whisks began being utilized in America. Wire whips/whisks are now a staple in many bakeries & restaurants to make batters, sauces and many other culinary delights. At KaTom Restaurant Supply, let us help you make your selection of whips/whisks.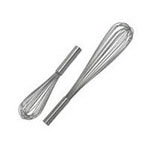 The piano whip/whisk is similar in shape to a balloon whisk/whip but generally has fewer wires making the piano whip/whisk a good all purpose whip/whisk. At KaTom Restaurant Supply we have a large collection of piano whips/whisks for you to choose from. Ours include some color-coded handles or epoxy filled handles and many are constructed of stainless steel.